Campus literary journal returns for second issue
Threshold is accepting art, poetry, and short story submissions until Jan. 15, 2023 at midnight.
West Liberty's student journal, Threshold, is requesting submissions for their second edition planned for release during the end of spring semester. The cover of the second issue will be chosen from the artwork received in the art category. Anyone submitting art within the available categories is eligible to win the front page cover. Guidelines for artwork and written work can be found on their website.
For written work, Threshold staff ask for a cover page with the name and email address of the applicant. This information is not needed on any other page. Every written work excluding poetry should be double spaced and have a readable font such as Perpetua, Times New Roman or Calibri. Poetry must have single-spaced lines with double space between stanzas. These files should be named with the applicants last name and the genre of the submission.
Both digital and hand-drawn work is acceptable. However, traditional work must be photographed or scanned. The image must be no less than 12 inches in any direction.
Abby Beckelhimer, senior visual communication design major, said, "My job at Threshold is the Art Director/layout designer. My entire job is to design the look of the Threshold cover and all. I spend the time placing each piece of art, and literature into the layout that makes the journal what it is. I also made the Threshold Logo featured on everything!"
There is a transformative part of art that the staff of Threshold believe in. They describe it as a process of engaging in art and crossing a threshold. The goal of Threshold is to give students opportunities and create artists within the community.
Jessica Dobbins, prose editor and English literature major, said, "I am a senior at WLU. As prose editor for the Threshold staff, I read each submission and determine the best criteria each submission should meet in order to be included in the upcoming edition. I love reading all of the submissions and seeing all of the amazing talent we have on campus. The spring 2022 edition came together so beautifully and I can't wait to see what everyone has in store for us this year!"
Alexis Walton, the editor-in-chief and professional writing and literature major said, "What my job entails is communication with other staff members about what is going on behind the scenes, note-taking and agenda-setting for our weekly meetings, email and announcement writing and copy editing. I have loved being on the Threshold staff as editor-in-chief and will be sad to give up my position when I graduate in the spring. We created some truly exciting and beautiful work as a group last year, and I know that we will do the same when we launch again next semester."
For more information, visit https://westliberty.edu/threshold/. To email submissions for a chance to be recognized in the second issue of Threshold, email [email protected]. To join the Threshold staff, contact [email protected].
Leave a Comment
About the Contributor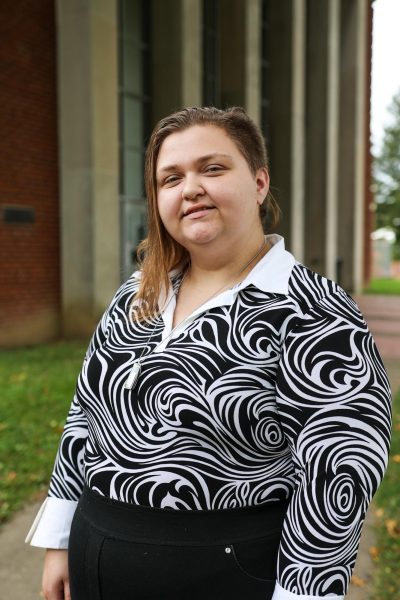 Haley Blakemore, Photo Editor/Social Media Manager
Haley Blakemore is a Senior in English Literature  with a minor in Journalism from Reeader, WV. Blakemore has been on staff for the Trumpet since 2019....