Community education aims to revitalize Ohio Valley
By Natasha Muhametzyanova, Contributing Writer
Have you ever felt that college is supposed to be something more than 50-minute lectures and online quizzes? Going to school in the Ohio Valley, it is hard not to think about ways to help the local community, and to do something that would matter here and now. One of the newest programs at West Liberty University, Community Education, might help one do just that. 
"This program is for students who want to build bridges in the community, for those who are interested in education, but don't want to be conformed by the school system," said Dr. Miriam Roth Douglas, the program director. 
Douglas started developing the Community Education program when she joined WLU in 2012. After a long development process, the program was approved by Higher Education Policy Commission (HEPC) and welcomed its first students in 2014. Since then, the program has been growing and currently has 35 students across seven majors. 
"It is a progressive program. Not many colleges offer it, but the demand for it is on a rise," said Douglas.  
"I like this program because it's education but not formal education. There is more flexibility," said senior Salena Wilson. Community Education became a true calling for Wilson after she struggled for several years deciding on her future career. "I came to West Lib in 2009 and switched my major seven or eight times. I was very frustrated. I couldn't find anything I liked or anywhere that I thought was my place. I took a couple years off school. Then I saw a TV commercial for Community Education program, and a month later I got my textbooks and enrolled to classes," Wilson said. She is set to graduate this December with a degree in disability services.
"I have several family members who are hearing impaired. That was always a part of my life — advocating for people with disabilities," Wilson added.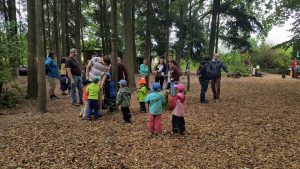 Besides disability services, students can specialize in six other areas including community arts, educational leadership in faith organizations, museum education, outdoor education, sports, recreation and wellness and teaching English & global education. 
Those interested in the program should be ready for a challenging learning environment. Douglas said, "It's a progressive program based on hands-on experiential learning. It makes it different for students who are used to lectures," 
"But the experience that students get during the program helps them network and make connections in the community which makes it easier for them to find a job," said Douglas. 
According to Douglas, recent graduates have been successful at finding employment with local non-profits including
Schrader Center
,
Carnegie Museums of Pittsburgh
,
The Wilds
and
YWCA
. "Our students work in organizations that are essential to our community. They become transition specialists for kids with special needs and work for organizations like
Birth to Three
," said Douglas.
 "Our students can work in any non-formal learning environment and non-profit organizations. They can also work in many private school systems. The whole program is built to support life-long learning, so students can choose to work with kids, teenagers or senior citizens," Douglas said.
Students also have an opportunity to learn from a variety of specialists during their summer study abroad in Germany. There, students visit different educational settings such as
Forest Kindergarten
which promotes outdoor education. 
"With the increase in media use, kids don't spend as much time outdoors. It's important we have an outdoor education program and people who are willing to develop education in that direction," said Douglas. "Outdoor education is more than just adventure tours. Our students develop programs on teaching sustainability to kids, explaining to them how to respect nature."
The community education department expects further growth of the program and is working on accommodating the program to students' needs. Students can go through an accelerated three-year program, transfer students from community colleges can complete 2+2 program, and those who received a college diploma in a different field can enroll into community education master's program. A minor in community education is also available for all WLU students. 
Photo credit: Community Education