Psych club uplifts YWCA, welcomes involvement
By Jalyn Bolyard, Online Editor
WLU's Psychology Club
collected donations for the
YWCA Wheeling
at the end of last semester for the holiday season. It is one of 300 associations in the nation that aims to eliminate racism and empower women with its local programs. 
"Considering that it was just short of two weeks for the drive, I am glad we got as many donations as we did," said club President Michelle Yadrick. "The need was very urgent, and the YWCA is always in need of things like laundry detergent and feminine hygiene products for their shelter."
"Having the Psychology Club sponsor the drive helped spread the word around campus and allowed us to donate much more supplies," said club Vice President Randy Dlesk. "Many of us psychology majors want to pursue careers in mental health and help people that are victims of domestic abuse, among other things."
Some of the items that were collected and donated included women's and children's clothes, coats, hats, gloves, feminine hygiene products, toothpaste, and children's toys.
"It was an honor to provide donations to the emergency domestic violence shelter and the YWCA boutique. The ladies working at the YWCA were very excited to see that we had a lot of children's toys collected as well in time for the holidays," said Yadrick. "We felt that it was important for our club to sponsor this event because of the impact domestic violence has on mental health. It is also imperative that we as a campus community know about and support the resources in our area."
The YWCA offers support and provides programs for domestic violence victims. Programs include Cultural Diversity and Community Outreach, Family Violence Prevention, Residence and Homeless, Women Inspired in New Directions (WIND), and the Y-Not-Repeat Boutique. 
"Collecting supplies for the YWCA was a great way to give back to the community, and help out women and children who were going through a rough patch in their life," said Dlesk. "I may not be able to single handedly make their lives better, but it's a step in the right direction. Every little bit counts."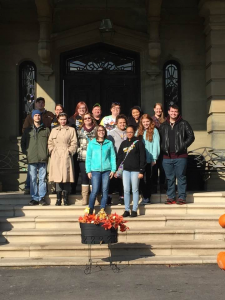 Other student club officers include Alyssa Ebert as secretary, Trevor Piccone as treasurer, Ryan Oliver as fundraising coordinator and Calesha Williamson as activities coordinator. About 20 students are currently active in the club.
The club also visits local Escape Rooms, holds Jeopardy games, and will be visiting the Carnegie Science Center.
The club is open to all students, and the fee to become an official member this semester is $10. The club meets on most Wednesdays at noon in Main Hall room 339. The first meeting was held on Jan. 31.
If students want to get involved or have any questions, they can attend a meeting, visit the Psychology Lounge, or email Yadrick at 
[email protected]
 or Dlesk at 
[email protected]
Photo Credit: Media Relations
Others provided by Michelle Yardick