Trumpet Solo: Andy "Jiggsy" Coulter
By Walker Polivka, Contributing Writer
West Liberty State College Alumnus Andy Coulter recently made the trip to Super Bowl LII as a News Photographer for WPXI-TV out of Pittsburgh, Pa.
Q: Where are you originally from?
A: I was born in New Jersey in 1978, but settled in nearby Avella, Pennsylvania, in 1985.
Q: Where did your passion for television and photography first begin?
A: I recall watching Bob Costas do some pregame work for the 1986 World Series on NBC and I thought, (even as an eight-year-old), that this is something I'd like to do one day. I was already a big baseball fan at the time, and I was just drawn to the network's coverage. I joined a photography club at my school with some classmates when I was in sixth grade and that led me to really enjoy still photography (I don't really do much of it anymore, other than taking iPhone pictures, because of my videographer job). After graduating high school in 1996, I started college on the Hilltop, majoring in communications with a specialization in radio and television.
Q: What made you choose West Lib? What did you study at West Lib?
A: I chose West Liberty for several reasons: it's close to home; it made sense financially; I liked the intimacy of the classes; and I could try to walk on the baseball team. I studied tv and radio while at West Lib and I eventually minored in print journalism.
Q: How was your West Lib experience and how did it help you once you got out into the workforce?
I stretched college a bit longer than most. I attended for six years, but it's not as bad as it sounds. I could've had my communications degree in five years, but needed only a few more credits to add print. I actually started my career in 2000, two years before I even graduated. In 2000, I started working at WTOV9 in Steubenville, Ohio, as a part-time News Videographer. I worked weekends, holiday breaks and summers, just to "get in the door." After I graduated in 2002, I went to WTOV9 full-time. I can't thank my professors enough. Great teachers like Chris Lee, John Matviko, and Kathy Swift, as well as my two advisors, Bill Hanna and the late Gray Williamson, were tremendous people that took the time to teach and not just "hand out tests." As for my experience on "The Hill," I can't say enough that I've made lifelong friends that I consider family. I'll also say that the good times could never be duplicated. Lastly, thank God that social media didn't exist back then!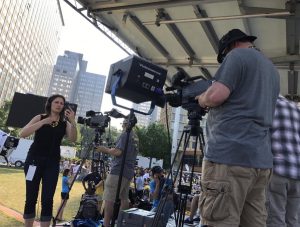 Q: Where all have you worked at since graduating from West Lib?
A: I started at WTOV9 in July of 2000 and went full-time after I graduated in 2002. I met my now-wife while working there and we left in the fall of 2004 for sunny Orlando and WFTV. The biggest story of my tv news career occurred while there as the Casey Anthony saga began in 2008. I also covered Super Bowl XLIII in Tampa while there in February of 2009 as my beloved Steelers won the big game. We stayed there until the spring of 2013 when we moved back home and started at WPXI. I can proudly say that I've worked for Cox Media Group since 2000.
Q:  What's a typical work day like for you?
A: A typical day in tv news is a question that I get asked a lot, and I think I've figured out a way to break it down: I tell people that it's like a pie chart. I'd say at least 60 percent of my day is waiting and driving. 25 percent is shooting, editing and setting up a live shot. Another 10 percent is dealing with our managers, producers, associate producers and assignment editors. The last five percent is dealing with crazy people! Ha ha! Also, people think that stories just magically come together. They don't realize that there is digging and research and phone calls. Sometimes, stories don't happen. We'll get a tip and then it turns out that the tip wasn't credible. On the other hand, sometimes we'll check something out and it turns out to be a big deal. The other thing with being a videographer is that I get to take you, the viewer, where I am. I get to be creative in my storytelling and that's something that I've always enjoyed.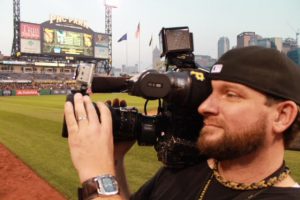 Q: What advice do you have for college students?
A: My advice for the students at West Liberty is to enjoy yourself while you're there. Yes, you must put in the time to do your work, but you can also enjoy the ride along the way. The lifetime of memories that I made there with friends (some fuzzy memories as well) are something that I'll always cherish. So, enjoy it! You only get to be young once!
Q: How did you get chosen to work Super Bowl LII? What was that experience like for you?
A: I was chosen to do Super Bowl LII by my boss. Since I work at an NBC affiliate, we knew that we were sending a crew months in advance. At my shop, it goes by seniority for who wants a big job like this. I thought early in the season that the Steelers may have had a shot to go; so, I put in for it. With the game being in Minnesota, in February, not many of our photographers wanted to go to even colder temperatures than we have here. So, in hindsight, I've known since before Christmas that I was going to go. The experience was nice. This was the second Super Bowl to add to my resume. I WILL say that it wasn't easy. There's A LOT of work to be done to do three stories a day, each day we were there. The NFL doesn't make it easy and nothing was really convenient. I didn't even really get any down time until the day of the game. One thing that I really enjoy about a big event is seeing old friends and meeting new ones. I've only worked at three stations in my almost 20-year career, but I have friends in just about every tv market in the top 50. I met with a friend for lunch who is an anchor in Minneapolis. A friend that's a reporter in Philadelphia whom I worked with here in Pittsburgh was there, covering the Eagles. He and I covered the Penguins' run to a Championship in 2016 in San Jose. And yet another friend, the chief photographer at our sister station in Boston, gave me his station's extra spot on the field after the game, in exchange for grabbing a few interviews on the field for his station. He saved us from having to go outside to the riser, in -6 degrees weather.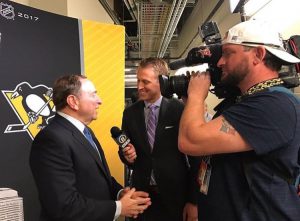 Q: What are your future plans? Where do you think your career will take you? What kind of goals do you have set for yourself? Which photographer's work did you admire growing up? What inspires you in your work?
A: My future plans are to keep plugging away here. After 18 years, I'm finally in the place that I've wanted to be in since I started in 2000. TV news is a tough business. People don't realize that, but it is. The trick is to find out if you have the chops to make it. When you start, you usually have to start in a small town, a long way from home, making little money. You work there for a few years, then work your way up. I'd say that it takes 10 years just to get where you want to be. It took me 13 years to get home. But, that old saying "if you love what you do, you'll never work a day in your life" is true. I guess that no one photographer in particular really inspired me, but that's not to say that there aren't great ones out there. I'm more of a "lead by example" type with my work. If I see something that I think you should see, I'm going to try my hardest to get the shot. For example, about 10 years ago, several storms blew through Central Florida, and after the storms left, the flood waters were still high. We spoke to a person that lost their house to the flooding, and while we were there, in waist-deep water, a four-leaf clover floated past. One of the coolest shots that I've ever gotten. Then, I scooped the clover onto a piece of paper and gave it to that person. Often, there's a bigger, human element to the story. One thing about this profession that bothers me is the term "fake news." A lot of times, people say that because they don't agree with a story. But we as journalists are to get BOTH SIDES, not just the side that said people agree or disagree with. It gets frustrating, but the key is to just keep plugging away. Not everyone is going to agree with your work. Another piece of advice is to leave work at work; don't take it home with you. This job has way more ups than downs. 
Q: What all did you do with the newspaper and radio station at West Lib and what was your column and show about?
A: My old friend Chana Diehl (now Baker) was the editor of "The Trumpet" in 1999. She said that she needed a music columnist and asked if I would do it. I'm a BIG metal guy, especially hair metal bands of the 1980s, and was always spouting knowledge about songs and bands. I even had a radio show on WGLZ with a buddy called 'Big Hair Mondays,' every Monday night from 8-10PM. So, I did a show, even after my buddy graduated, and got paid to write about bands! Cool, right? And $20 a week was decent beer money 15-20 years ago! A memorable moment for me was working on the 80th anniversary edition of "The Trumpet" while I was there and being part of the first Trumpet staff of this century.
Q: After posting the initial picture at the Super Bowl while wearing your WLSC Gear, did you expect this to get as big as it did?
A: I wasn't expecting that to blow up like it did as I only did it as kind of a goof to a few friends. Sometimes, we'll have on some WLSC (I still say West Liberty STATE because that's where I graduated from) gear and post a picture of what we're doing. We started doing it a few years ago and for the handful of us that do it, this one blew up the most. Like I said, just kind of a gag, but kind of cool that it got bigger than intended.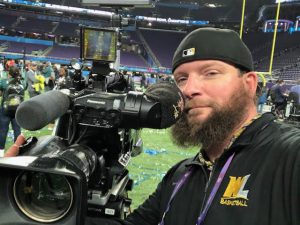 Photos provided by Andy Coulter