NFL Super Bowl: The Tampa Bay Buccaneers reign supreme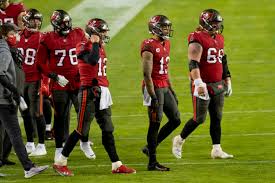 Tom Brady. Patrick Mahomes. A Super Bowl matchup for the ages. Will Tom Brady pass the torch off to Patrick Mahomes and drive off into the sunset? No, at least not yet. Super Bowl fifty-five kicked off Sunday night as Brady captured his seventh title en route to bringing home a second championship to the City of Tampa Bay. This Super Bowl in particular was the first time a host city had their home team participate. It was a very strong season for Tampa Bay, as they finished with a record of 11-5. What made this championship so special and unique for the Bucs, but specifically for Brady, was the surprise turn around this team had from just a season ago. Brady bet against himself that he could be the face of the franchise elsewhere from New England, and it is safe to say that the bet was paid in full. With key additions like Brady, Lenoard Fournette, Antonio Brown, and rookie tackle Tristian Wirfs, the Buccaneers seemingly went from zero to hero.
The touchdown game opened up rather slowly for both teams, until Rob Gronkowski, yet another free agent addition, found the endzone. In fact, Gronk would do it for a second time, which is when the flood gates began opening up. For the casual viewer, there was some speculation regarding the amount of penalties being thrown towards Kansas City. Admittingly, they did seem quite suspect (are we shocked about any suspect calls in a Brady Super Bowl, though). However, games are not entirely won on ticky tacky calls, and Brady and the Buccaneers proved just that. The Bucs easily cruised to victory from there, capturing a 31-9 victory over the Chiefs, as Brady won yet another Super Bowl MVP. With seven Super Bowl victories for his career, Brady has more Super Bowl victories than any other franchise in the NFL, which is quite the feat for most.
Leave a Comment
About the Contributor
Maxwell Fiedorczyk, Sports Writer
Maxwell Fiedorczyk is currently a senior at West Liberty University. A native from Weirton, W.Va., Fiedorczyk serves as the sports writer for The Trumpet....