Learning and Student Development Center hosts interview preparation workshop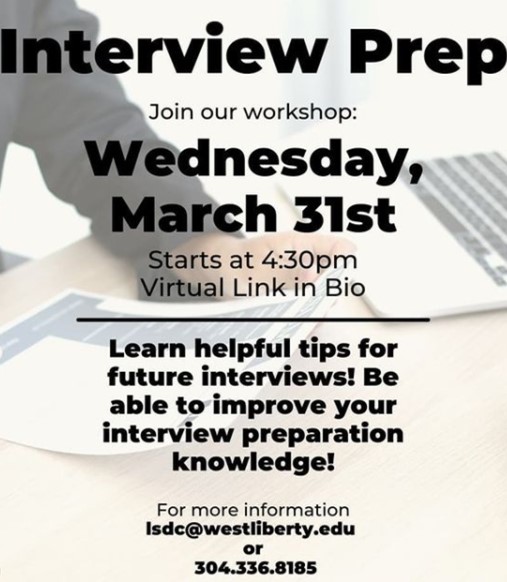 Last Wednesday, March 31, 2021, Chris McPherson, the director of the learning and student development center, hosted a career development workshop focused on interview preparation over Zoom. In the hour-long workshop, McPherson offered various tips and pieces of advice that will help viewers feel more confident in their next interview, whether it be for work, school, or another reason.
One of the topics focused on important documents and first impressions. It is highly recommended that a person reviews their resume and cover letter before going to an interview to make sure they are familiar with all of the information that they have presented to the potential employers. This can also help build confidence which can help form a good first impression.
Clothing should be appropriate for the job and comfortable for the atmosphere of the interview. Dressing in layers was a piece of advice presented. This way, one can be dressed appropriately for every type of weather or situation. Additionally, if you are planning on wearing new clothes to the interview, you should make sure to try them on the day or night before, so you are not scrambling the next day if they do not fit.
The next topic covered research and reviewing to be done before the interview. To make sure nothing catches you off guard, you should research the job descriptions and the organization prior to the meeting. This is also a way to find and form questions for the interviewers. McPherson stated that you should ask yourself questions when researching such as, "Are there any items that may be unclear? Are there any responsibilities that you do not fully understand?"
The final topic covered the day of the interview. This is where all of the hard work and preparation come together. There are a few other things that you should bring with you to your meeting. This includes resume and cover letter copies, a notebook, pens, and a positive attitude. The copies of the resume and cover letter come in handy if someone forgot theirs or if these documents have changed in any way.
A notebook and pens should also be brought to write down questions asked, a special note to yourself, a list of the people there, and specific talking points. When going to the interview location, try to be there at least fifteen minutes early and know where you are going down to the room number. Most of all, be pleasant, respectful, and yourself.
The recording of this webinar is on TopperStation.
View Comments (1)
About the Contributor
Emma Beatty, News/Culture Writer (spring)
Emma Beatty is a first year student at West Liberty University majoring in Human Biology. She has the intentions of going on to become a Physician Assistant....