International Food Festival Review
The International Food Festival was held on March 29 from 1-3 p.m. in the afternoon.
The food provided was representative of 9 countries. Nigeria was represented with a vegetarian meal of beef stew, plantain, and rice and beans. This was one of my favorites so I got a plate, and the beef stew was so delicious!
Diann Nickerson, the director of Protestant Campus Ministry said, "I loved the collective ensemble of countries represented. I found the listings of the food by country and item helpful, especially vegetarian options. I sampled several items! The Nigerian beans and rice with stew was again flavorful and reminded me of comfort food we have here in the States, like stew or vegetable soup."
Columbia made guacamole, Colombian empanadas and Aji. I discovered that I'm not a big fan of guacamole, but the empanadas were good. Costa Rica also provided a vegetarian meal of gallo pinto and pico de gallo. Kyrgyzstan had boso lagman which is a stir fry. Tunisia had couscous and wheat soup. Personally, I did not like the texture of the couscous because it reminded me of Orbeez and the wheat soup was also a little strong for me.
Myanmar had chicken curry. Nickerson said, "The Myanmar curry chicken is always a wonderful dish and May did a great job at cooking and presenting it. It was my favorite!"
Germany had some delicious pasta bake that I decided to add to my plate. Nickerson said, "The baked pasta from Germany was rich, creamy and very similar to something we Americans would eat on a holiday."
Russia had 'Olivye' salad. This tasted similar to macaroni salad. India had aloo methi which is also vegetarian. Nickerson said, "The Russian potato salad was a tasty dish with wonderful flavoring. The student who presented it explained the dish and how they make and celebrate it on New Year's Eve."
Logan Riggenbach, a broadcasting major said, "The food festival was an overall success. The food was absolutely amazing. I was disappointed that I got so full so fast because I just wanted to keep eating. The performances done by Siddhi and Angie were beautiful. Overall, 1,000 out of 10."
Nickerson said, "I also enjoyed watching the students dance in traditional garments! The outfits were lovely and I would like to see more of that for next year. I thought the event was very well organized. Ryan and Mia did an outstanding job of getting many different groups involved. International students, the SPICES Club, faculty, staff and of course our students made this a success. It was thoughtful to host the event at lunchtime so many people could participate. I appreciated the ability to sample things before committing to purchasing a plate. The value of six plates for $5 was fantastic and if you didn't have cash, Venmo was available."
Leave a Comment
About the Contributor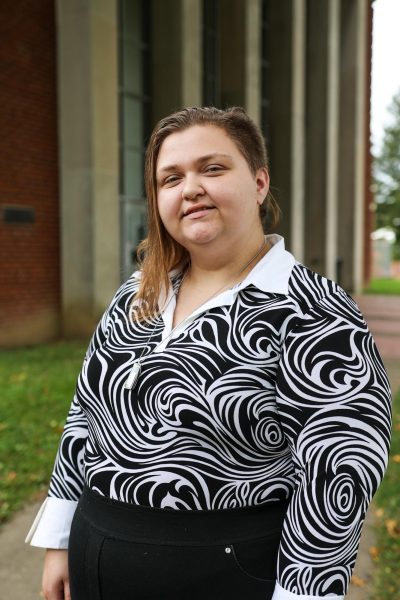 Haley Blakemore, Photo Editor/Social Media Manager
Haley Blakemore is a Senior in English Literature  with a minor in Journalism from Reeader, WV. Blakemore has been on staff for the Trumpet since 2019....