Olympian speaks to students about living with mental illness
By Josh Smith, Contributing Writer
On Wednesday, Sept. 28, West Liberty University Students were educated on a very serious topic that not only effects college students, but everyone in general. Students filled the pews in the campus chapel to listen to a famous local who herself battles mental illness but vows to help spread awareness of those who are uneducated. 
Amy Gamble, a graduate of John Marshall High School, was a tremendous athlete in her prime. As a senior, she was nominated as an All-American, and eventually signed to play basketball at the University of Tennessee under the late Pat Summit. Gamble would end up transferring to play at the University of Arizona where she finished school. Following her collegiate career, Gamble was fortunate enough to support her country in the 1988 Olympics. Without a doubt, Gamble battled with many foes on the court but for her, her biggest opponent was mental illness. 
Gamble explained to the students of her history of battling bipolar disorder throughout her life, to the point where it almost dragged her away from the sports she loved. With the help of many counselors and mental illness educators, Gamble considers herself to be in the best mental state she has ever been in. For that, she wanted to help educate awareness alongside mental illness professional, in which she joined a local National Alliance on Mental Illness (NAMI) which helps build better lives for Americans affected by mental illness. 
"I suffer with mental illness. Millions of people suffer with mental illnesses. I want people to know that it's okay to get help," said Gamble. "We strive to let people know that they are not alone, and that mental illness is something that is manageable with the right help." 
The presentation by Gamble informed students of current statistics of mental illness that concluded that one in five people suffer from a mental illness. This statistic visibly startled the students attending the seminar. The power point presentation included enormous amount of helpful information on mental illness. 
However, Gamble reiterated time and again that mental illness is not a joking matter, and it deserves a lot of attention. The disorders that are most common are anxiety and depression, and Gamble explained that just being there for someone can tremendously affect them positively.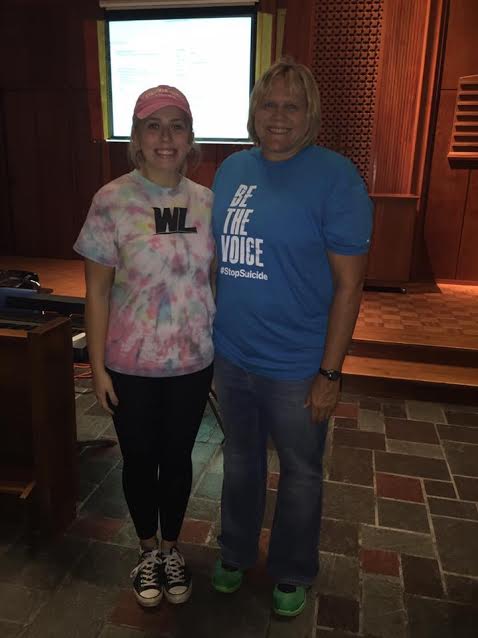 "Awareness is the key. Awareness goes a long way when trying to help not only mental illness, but anything," said Gamble. 
"I want students to know that help is always there," said Pastor Debra Dague of Campus Ministries. "As an EMT, I understand the feeling of being in a 'black hole.' I want students to know that there are people who can help bring them out of that hole." 
The seminar was short in time but huge in impact. Visible smiles were seen on students' faces when leaving, and many stuck around just to talk and ask questions. 
Educating oneself on awareness of mental illness not only helps people who suffer from it, but also the people who are alongside the ones suffering. A mental illness can be a complex disorder, but only if we allow it to be. Ask for help; give help; make a difference. 
For more information on mental illness and awareness, go to 
nami.org
.
Photos provided by Amy Gamble.