Oglebayfest provided a fun weekend for locals
By Megan Jones, Advertising Manager
The annual Oglebayfest was held this weekend with outstanding turnout.
In 1979, the festival began in honor of the 50th anniversary of Oglebay Park in Wheeling, W.Va. People from all over the tri-state area, and sometimes even further, come to enjoy the three-day fall festival.
Oglebayfest has something for everyone to enjoy. It's known for its art market, food, wine, fireworks and more. Each year on the first weekend of October, the festival is put on for the public to enjoy. Vendors come to Oglebay from everywhere to show off and sell their original artwork to everyone.
"It's cool to be able to support artists from around the area that I personally know," said Casey Johnson, West Liberty University senior. The art and crafts include everything from pillow pumpkins to jewelry; personalized wooden signs to mixed media canvases from local artists; candles to leather apparel and even more.
Some people go to Oglebayfest for the crafts, but many come for the drinks and fun. Multiple wine tents are set up behind the historical Oglebay Institute Mansion, where you can taste a little or buy a lot. If you're more of a beer person, have no fear. The rowdy ones of the family can enjoy local music and pumpkin flavored beers at the Rathskeller tent.
If you're hungry, you're in luck — Oglebayfest is home to a gourmet food market where you can purchase a variety of regional foods. Vendors come to the festival to sell their yummy treats like everyone's fall favorite: kettle corn. There's even a grilled cheese food truck!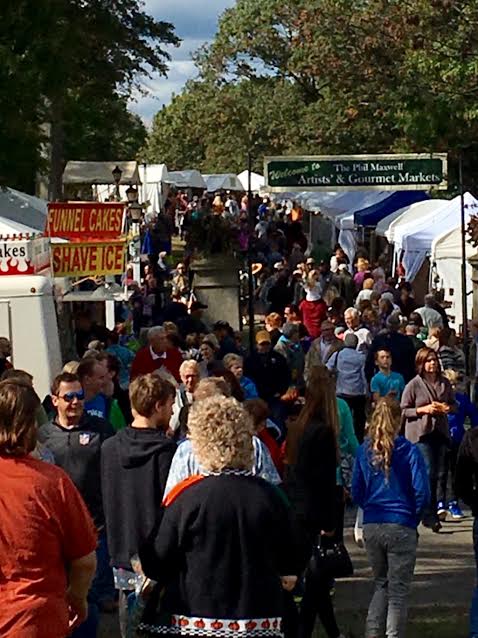 WLU freshman Olivia Killbane went to Oglebayfest for the first time this year and was blown away by the food selection.
"The food was amazing! I have a bread cone filled with turkey and beer braised onions, that was one of the best things I've ever had to eat," Killbane said.
Another exciting thing to do at the festival is visit The Good Zoo and see the laser light show.
Oglebayfest is a great time for the entire family. You don't want to miss the parade that kicks off the event each year or the fireworks that light up the sky at the end of the night.
Oglebayfest is something Wheeling locals look forward to each Fall. If you like to enjoy the fall weather with friends, don't miss out on it next year!
Photos provided by Megan Jones and Hayden Blazer.