Basketball teams eager to start their seasons 
By Chad Richards, Contributing Writer  
With an enrollment of around 2,000 and a location in the northern panhandle, it's no surprise that not many people have heard of West Liberty that aren't from the area. But to NCAA Division 2 basketball programs, it's a name all too familiar as it has consistently produced some of the best men's and women's basketball teams in the country. As November rolls around, that means it's time to start what should be another historic season for these top-tier D2 programs.  
The last season was one of the program's best, both on the men's side with a Final Four appearance and the women's side with a dance in the Sweet Sixteen, and both have hopes to make it even further this year. 
The men's season started in strong fashion, with triple digit scores in wins over Mansfield and California University of Pennsylvania. They had some early scares from Notre Dame College in overtime and from Fairmont State at the ASRC, which led to a tough two point win. They would go on to win 15 in a row before losing two in a row to Concord and rival Wheeling Jesuit. But they rebounded quickly and finished the regular season undefeated from there, as well as undefeated on their home court after a nationally televised finale with Wheeling Jesuit.
Then it was on to the Mountain East Conference Tournament, where they managed a close win against Glenville State, but got stopped short of the finals by a double overtime buzzer beater courtesy of Concord. That didn't stop them from rolling through the Atlantic Regionals and beating Concord, Virginia State and Kutztown to make a return trip to the Elite Eight. A tough single point win against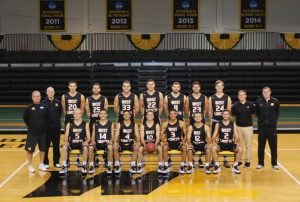 One of the players that should be leading the charge is sophomore guard
David Dennis Jr.
, who had a stellar freshman year. He was named the MEC Freshman of the Year and was named to the Division II All Freshman Team and Atlantic Regional Tournament All-Tournament Team. He was among the top of the nation in assists and steals and posted a total of 489 points. He played five games above 20 points and had a season high of 26 points in the national semifinal against Lincoln Memorial. And don't forget, he did all of that as a freshman. Leading the upperclassmen of the team is senior guard
Devin Hoehn
. He comes into his senior season with over 1,374 points and 240 three-pointers. He ranked second on the team on three pointers made with 240. He had a career high of 30 points against Concord. He spent part of the season battling injuries, but still managed to put up some impressive numbers. 
The women's team also returns some quality talent, both young and old. The women had their freshman standout in the form of the now sophomore guard
Johnnie Olkosky
. She played in and started all 34 games, posting 296 points (around nine per game) and 64 three- pointers. She also had 20 games scoring in double figures. Senior Guard
Emily Bucon
is also returning after a great junior season after battling through some injuries. She scored 255 points and had 155 assists. She had 10 games scoring in double figures and a season high of 22 points. She also posted a career high of seven two-pointers and six three-pointers against Slippery Rock. 
Both coaches are known for their ability to bring high quality recruits to the Hillltop, and this season is no different, with both teams bringing on some new faces and some transfer students. One player to look forward to is
Clay Guillozet
from Greenville High School in Ohio. He started all four years on his high school team. In that time, he posted 1,583 career points and a stunning 23.6 points per game in his senior year. He was the Ohio Division I District 9 Player of the Year in his final two seasons. 
The women's team has its share of new talent as well. One of the incoming classmembers includes
Monica Bragg
from Weirton Madonna High School. She averaged 22 points her senior year and around 26 in the postseason. The women will also be welcoming a transfer student;
McKenna Shives
transferred to the Hilltop from Gannon, a D2 school.  
You can catch live coverage of all home basketball games and some away games on
WLU-TV 14
and recaps for those games and the rest of the season in The Trumpet.