Taking a look at WLU buildings and history
By Josh Smith, Contributing Writer
West Liberty University is home to a variety of unique and historic buildings. From tall, white pillars, to beautiful brick structures, the hilltop houses some historically-rich buildings, ranging from campus facilities and residence halls. Currently, WLU offers five dormitories on the campus grounds: Hughes Hall, Bonar Hall, Curtis Hall, Beta Hall and Krise Hall; two former dorms, Boyd and Rogers Halls, are expected to re-open next school year.
Students eat, sleep and live in these buildings, but most, if not any, do not know where they got their names. In this article, I will state the brief history and where WLU's various dormitories and campus facilities got their names.
DORMS

Hughes Hall: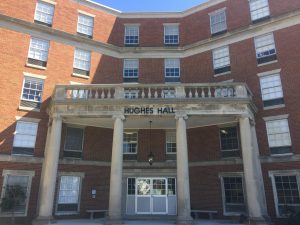 Recognized by its large, stone pillars, Hughes Hall was named after former English Department faculty, Raymond G. Hughes. Hughes served as an English and Literature professor at WLU for nearly forty years, during the mid-1900s. Although Hughes was contained by his wheelchair due to his childhood polio, he was very involved around campus.
Bonar Hall:
Bonar Hall was named after WLU's former president, John S. Bonar. Bonar served as the president on the hilltop from 1926 to 1933. Before his presidency at WLU, Bonar was a premier educator in Marshall County, W.Va. Bonar graduated from West Liberty State Normal School in 1913 and was inducted into the WLU Academy of Honor in 2010.
Boyd Hall:
Acting as one of the two closed dormitories, Boyd Hall was named after Mrs. Robert Lee Boyd. Boyd served as a member of the West Virginia State Board of Education. She was from Wheeling.
Curtis Hall:
Commonly known as the freshman dorm, Curtis Hall was named after General William B. Curtis and his family. Curtis was a general for Company D, the 12th West Virginia Regiment, during the Civil War. Curtis was born in Maryland, but his family moved to West Liberty when he was eleven-years-old. Of his many children, many of them graduated from West Liberty State Normal School. Like John S. Bonar, General William B. Curtis was inducted into the WLU Academy of Honor in 2010.
Krise Hall: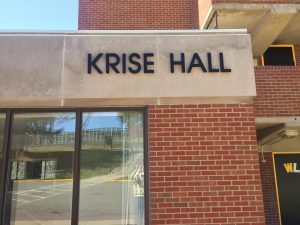 Like Raymond G. Hughes, Krise Hall is named after a former English professor. Nelle M. Krise was a professor at WLU from 1926 to 1966. In an article from The Intelligencer in 2015, it was made known that Krise was an avid book collector. Recently, the Elbin Library unveiled The Nelle M. Krise Rare Book Room. Many books from her valuable collection  can be found in this room. 
OTHER CAMPUS FACILITIES 
Arnett Hall of Natural Sciences – Named after former Academic Dean of WLU from 1955 to 1970, Denver F. Arnett.
Blatnik Hall – Named after former coach and director of athletics, Dr. Albert Blatnik.
Paul N. Elbin Library – Named after former President of WLU from 1935 to 1970, Paul N. Elbin.
Shaw Hall – Named after former President of WLU from 1908 to 1919, John Shaw.
Shotwell Hall – Named after the founder of West Liberty Academy, Reverend Nathan Shotwell, D.D.
West Liberty University has many historic buildings on its campus grounds, but many do not know the rich history that accompany them. Although this article does not completely delve into the well-deserved history of every building, it certainly gives them some justice.
For more information on other campus facilities or the history of WLU, go to  you can visit here, or visit the 2016-2017 WLU Catalog.
Photo credits: Josh Smith