Thank you, Coach Crutchfield; good luck, Coach Howlett 
By Josh Smith, Contributing Writer
Prior to coaching the basketball team, Crutchfield was a very successful
men
and
women's tennis
coach on the hilltop. In 2004, Jim Crutchfield became the head coach of the Hilltoppers men's basketball team. The season prior to his arrival was anything but pleasant for the Toppers. In the twenty seasons prior, the Toppers sported a winning season only eight times. A change needed to be made, and so began the Crutchfield era.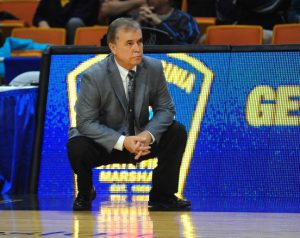 Jim Crutchfield coached the Toppers exceptionally well over the last 13 years, but he did more than win
basketball games
. He put the small, secluded town and university of West Liberty on the map for the entire country to see. And for that, we thank you, Coach Crutchfield. 
But with a goodbye, we also welcome a new head coach for the Toppers: former assistant coach Ben Howlett. Howlett was a member of the West Liberty Hilltoppers under Coach Crutchfield from 2005-09, scoring over 1600 points in his career.
Following his playing career, Howlett served as a student assistant the following year before taking a position as an assistant at
Ohio Valley University
in 2010. Howlett took an assistant position under Crutchfield the next year and has been here ever since. 
I must say, I am quite sad to see Crutchfield leave. He did so much for this university, and piqued my interest and love of basketball so much more. I think that I speak for most people when I say we will miss you, Coach Crutchfield! 
But I also think we will be in good hands with Howlett. I am excited for the future of Topper basketball, and I expect them to continue to be a legitimate contender every year. Let's go Toppers!
Photo credits: Hilltoppersports.com