By Emily Salvatori, Assistant Editor 
Classes at West Liberty University start today, Aug. 21, which means it is time to get back into the swing of classes. Whether you are a new or returning student, here are some tips on how to start the semester off on the right foot.
1. Go to Topperfest and other on campus activities
The Housing and Student Life Office puts together two weeks of activities for students to attend. There are also many other on campus events hosted throughout the semester, and these can provide a fun break from classes and studying. You do not have to attend every single event, but pick a few that interest you and check them out.
2. Go to class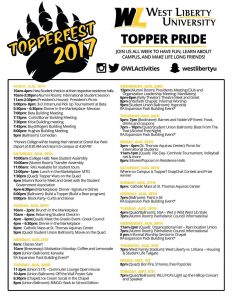 While this may seem obvious to some, it is still important to remember to attend classes whether there is an attendance policy or not. With West Liberty University's size, professors will be able to tell who is consistently present in class and who is consistently absent.
3. Get organized
Organization is a major key to a successful semester. Day planners are a great tool to use to stay organized throughout the semester. Another aspect of the semester that should be organized is your time!
4. Learn how to manage your time
Time management is one of the most useful skills college students should develop. Organizing your time is valuable so you can do well in classes, have time for extracurriculars and still have some time for yourself.
5. Study
Even though it is only the beginning of the semester, it is a good idea to start getting into good study habits early on. Figure out some study habits that work well for you and carry them throughout the semester. There are also many places on campus to study, so be sure to check them out!
Photo credit: Emily Salvatori