By Emily Salvatori, Assistant Editor
On Nov. 6 at 8 p.m., Toppers Got Talent made its debut on the hilltop. Toppers Got Talent is a four-week talent show, providing students at West Liberty a chance to showcase their skills.
The judges of the competition are Zach Connor, Jessica Ballard, Ashley Pryor and Zach Rhodes. The event was hosted by Adam Croasmun as Serenity Sparkle.
Sean Mccarty was the first performer of the evening. He played the guitar and sang "When I See This Bar" by Kenny Chesney as his talent.
The second performer was Sasha Veshkurtseva. Her talent was solving a Rubik's Cube and other puzzles in under 30 seconds. She solved the first Rubik's Cube in about 16 seconds. The second puzzle was solved in 29 seconds, and the third was solved in 30 seconds.
Audrey Blust was the third performer and she sang "I Will Always Love You" by Whitney Houston for her talent.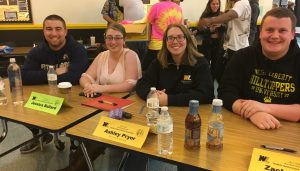 The audience got a taste of a drag show during the fourth performance, courtesy of Andrew Mehler as Boston Michaels, who performed as Joan Rivers.
The fifth performer was Alexis Smith, who sang "Dear Mr. President" by P!nk.
Zarek Wiley performed next. For his talent, he sang MKTO's song "Classic " acapella.  
The final performance of Toppers Got Talent was by DeVante Brown, who played the drums.
All contestants will be moving on to the second week of Toppers Got Talent, since one contestant dropped out before the show.
Toppers Got Talent will continue next week at 8 p.m. in the College Union on Monday, Nov. 13. If you missed the first week you can watch the livestream by visiting the Trumpet Online's Facebook page.

Photo credit: Emily Salvatori, Jalyn Bolyard