Sore legs and amazing memories: My first hiking trip 
By Daniel Morgan, Contributing Writer
This past month, my aunt and uncle invited me to spend a few days with them and my cousin at a cabin in Hocking Hills State Park in Ohio.
"It's a time to get away and also have one goal: to spend time together," said my cousin Nicole Young about her family's ongoing enjoyment of nature trails and cabin-dwelling.
I had never been on legitimate hiking trails before (unless you count that time I got my buddy and I lost in the woods behind campus for two hours…), and I have to say, the experience was much different than what I expected. I thought I would just be walking in between some trees while seeing an occasional rock or two. But the trails I went on were peaceful and picturesque. 
The first trail we took led us to Cedar Falls. It was a nice, cool Wednesday evening, and the path was not at all crowded. The trail looked very nice with natural streams and creeks trickling beneath some bridges.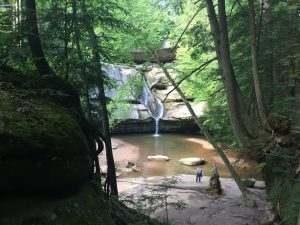 We finally reached the waterfall, and it was breathtaking. It wasn't huge, and the water wasn't especially deep, but the view was anything but ordinary. Pictures are nice and all, but seeing such nature in person is a totally different experience. 
We took my aunt and uncle's dog Max with us, and he even met a four-legged friend of his own.
We decided to be a bit more adventurous the next day of hiking. We took a small trail in the morning to get us started; a quick trip to the beautiful Ash Cave did not disappoint. The natural landscape was absolutely beautiful, and the waterfall made for a striking scene. We brought Max's sister Sadie with us on this trail, too.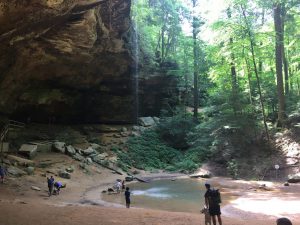 After lunch, we set our sights on Conkle's Hollow. We took the rim trail: a two-and-a-half-mile trek up and around the mountainous hollow. It was simply amazing, and literally breathtaking; our calves were talking back to us throughout the rest of the trip. 
It took us over two hours but seeing over the tops of the cliffs was a moment I won't soon forget, especially seeing that one wrong step could've been our last. Our favorite sign read, "Do not become a statistic."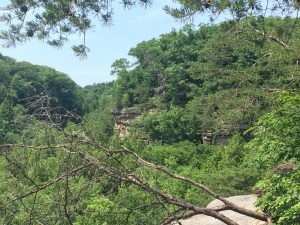 I had never stayed in a cabin in the woods either (no, not THAT cabin in the woods), and the experience was delightful. It was secluded and serene, the decor was charming, and it didn't take long to reach the trails. 
And of course, what's camping without s'mores? We definitely made use of charcoal when faced with a case of damp firewood. 
I also enjoyed the lack of cell phone service throughout the area. It was very refreshing to have no reason or urge to grab my pocket because of a buzz or ding. It allowed us to actually enjoy our time embracing nature as well as each other's company. 
And when we weren't hiking, we further enjoyed being "disconnected" by playing board games, exploring the cabin, and even getting a chance to relax and soak up the quiet by enjoying a good book on the porch.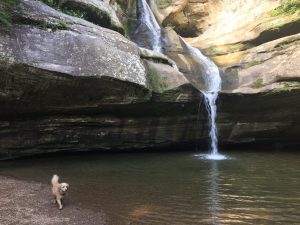 So, I would definitely visit Hocking Hills again as well as other state parks and hiking trails. I really enjoyed the experience, and it won't be long until scrolling through my photos prompts me to find more scenic areas to explore. 
Photo Credit: Daniel Morgan