By Dakota Knotts, Contributing Writer
On Tuesday, Oct. 30, the Nutting Gallery hosted "Courting Wonder," an exhibition featuring the works of Thomas Wharton. The gallery displayed astounding works of art that could have only been achieved through years of hard work and passion towards his craft.
Wharton has been pursuing art his whole life and described his style as working in the tradition of Western, but with the viewpoint of contemporary life.
He said, "I think of my paintings as objects of contemplation, providing the viewer a door into their own world of feeling and intuition. I imagine this kind of aesthetic experience to be more circular, something like a conversation between two close friends, where there is as much listening as speaking."
I personally, with every piece, found myself more and more engaged and just awestruck.
Wharton's focus was not always oil paint, though. He had spent years working with other mediums. When he was an illustrator, he would often work with watercolor, acrylic, pen and ink and the style would vary depending on what was needed of him.
"About twenty years ago, I switched my fine art style and medium from acrylic to oil paint, and from abstract to representational work. I had painted as an abstract painter for nearly ten years, but had begun to feel disconnected from what I was painting, and wanting to engage with real images, especially the portrait and figure," he said. "Now, I almost exclusively paint in oils, which are tremendously flexible and have the possibility of creating images of great depth, complexity, and with a strong sense of felt space."
With all the amazing pieces that the gallery had displayed I can only imagine it was how difficult was for Wharton to find a piece that he truly found attached to.
He said, "It's odd, but when I'm finished with a painting, it leaves me, or maybe another way of putting it, is that I lose interest in it. I nearly always lose the sense that I've actually made it, almost as though someone else did the painting. I know this sounds strange, but it's honestly the way I experience the paintings I've made. I think the reason for that is that it's the actual painting process that I like."
"The painting, 'Adam' is one that I'm the most attached to. It was the painting that formed the core of a whole series of male nudes I painted, and where I felt I was exploring through images, a very personal interior world of feeling, a world we all share," Wharton said. "The human nude is the biggest and most important subject in the history of representational art, after Jesus Christ and the Virgin Mary. So, to try to find something fresh and individual to say in a genre that thousands of artists over centuries worked in is a real challenge. I feel as though with 'Adam,' I found my 'voice' and said something original."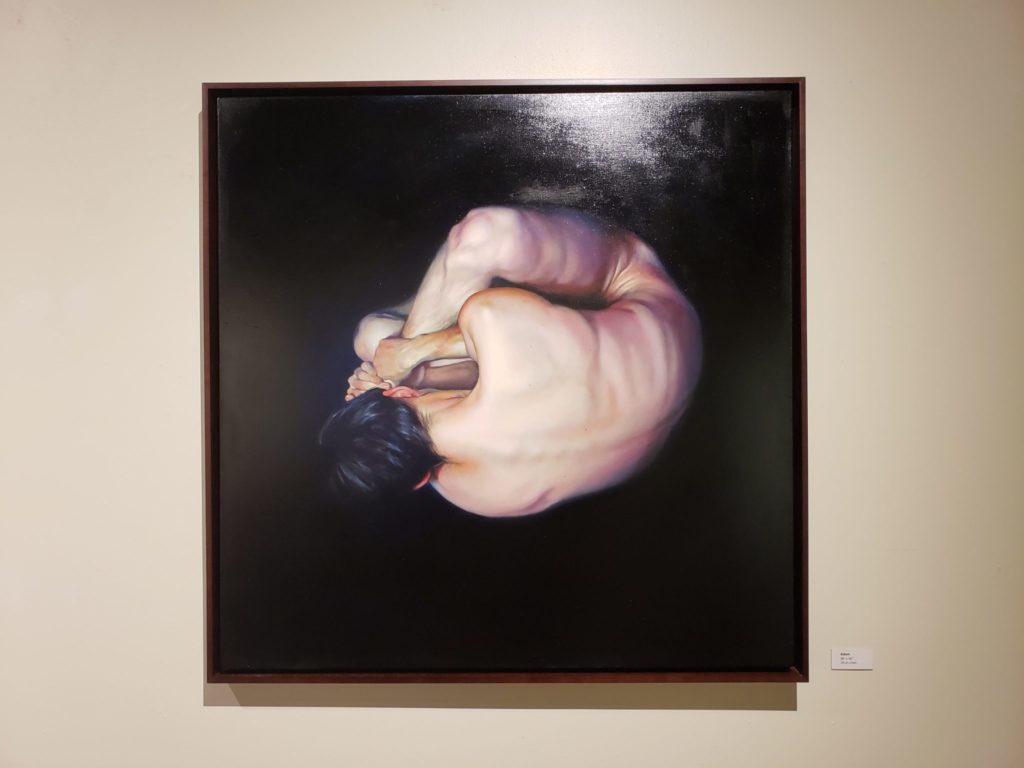 The exhibit's opening had a great turnout with staff, students and members of the community attending. Wharton himself was wonderful to meet and talk to and encouraged attendees to approach him. Please do make an effort to stop by before it ends on Nov. 15.
For more information on the exhibit and general questions about Nutting Gallery contact Robert Villamagna, gallery director, at r[email protected]. For more information on Wharton, visit his website. 
Later this month, to finish the fall season, Nutting Gallery will showcase its Senior Exhibit, where visual communication design and art education majors showcase their works in a final exhibit, which will run from Nov. 28 – Dec. 6. As usual, the exhibit's opening day will run from 5:30 p.m. – 7:30 p.m. and is free to the public, before resuming normal gallery hours.
Photo Gallery:
Photo Credit: Dakota Knotts