Elbin Library staff prepare for database changes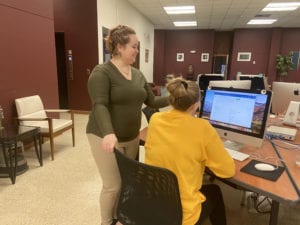 Katy Zane, West Liberty's librarian and head of Learning Resources, announced that the library database will be undergoing trials to introduce a variety of new databases for students, but some sources may no longer be accessible once the trials conclude. Any information from the database must be saved, or it may be lost. Regardless of potential problems, using the database is still encouraged, and may benefit students more than they know. 
Losing a source that you cited could be disastrous to your assignment's grade. However, Zane has provided an effective solution to this problem. Simply save your article to your computer and upload it to the Google Drive account linked to your student email, a personal Dropbox account, or a thumb drive. These allow you to host the source via a hyperlink as well. With a hyperlink to the source in your assignment, your instructor will be able to view your source online. Following the advised precautions is recommended between Jan. 21 and Feb. 15 when the trials end.
The trials are being conducted in cooperation with the WVers Consortium with the intent of establishing a list or consortium of databases. According to Zane, WVers boosts the school's database contents by providing a bundle-type deal on a variety of databases. "The school will be saving money through this to reinvest in other databases," Zane said. A list of some of the databases used can be found at the bottom of the Databases & Digital Collections section of the library website. 
Databases may have a specialized focus, so one may not have relevant information for every major. However, the upgrade will allow students to perform federated searches instead of individual searches, meaning the EBSCO databases search bar will scan all databases before reporting results. According to Zane, the library typically sees more than a million online searches per year.
This should be an impressive leap in the amount of content currently accessible via the library, which currently boasts on its website to include "over 200,000 volumes, e-books, e-journals, as well as many other resources," said Zane. With resources from across the state made available, this number could increase exponentially. 
The school will know within the first week of March which databases will be included in the final consortium. The upgrade will go into effect on July 1, 2020. Katy Zane is accepting questions at [email protected]