Review of "The Alienist: Angel of Darkness"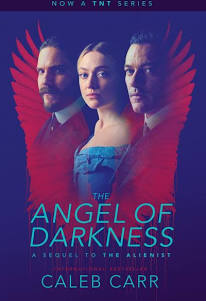 Imagine that the year is 1897 and the location New York. The streets are filled with not cars, but horse drawn carriages. Women appear in corsets and long dresses while men are seen in suits and Victorian hats. If the setting just piqued any interest, "The Alienist: Angel of Darkness" might be a TV show to consider.
The show stars actress Dakota Fanning who can be recognized as Jane from the Twilight series. Fanning plays Sara Howard who owns her own female detective agency and whose character is based off of the first woman detective. In addition, Luke Evans, known for playing the role of Gaston in the Disney movie "The Beauty and the Beast" plays John Moore, a New York Times journalist who was a childhood friend of Sara Howard. Also joining the cast is Daniel Brühl who plays Dr. Laszlo Kreizler, an alienist, or the term today, criminal psychologist.
Based on the novel by Caleb Carr, "The Alienist: Angel of Darkness" focuses on Sara Howard trying to find babies that go missing and the individual who is responsible for the crimes. The show begins with a mother being pronounced mentally unstable for believing that her child was stolen and as a result she is sent to the electric chair with the belief that she murdered her own child.
Another mother who is a Spanish immigrant also discovers her child missing and enlists the help of Howard, who turns to Dr. Laszlo Kreizler to create a profile for the man or woman committing these crimes. Kreizler arrives at the conclusion that the suspect is a female who longs to express her maternal instincts as a result of a trauma from her past. After tracking down the female who goes by Libby, Howard, Moore and Kreizler find the missing child, however, Libby slips away.
Believing that Libby will strike again, Howard, Moore and Kreizler search for clues to stop Libby before she can steal another child. Before the three can get to the victim, Libby takes the child of the Vanderbilt family.
While Howard and Kreizler work to track down Libby and understand her past, Moore goes in search of the Vanderbilt baby and finds it in a slaughterhouse. After returning the child to their parents, Howard, Kreizler and Moore meet Libby's mother who tells them that Libby had a child but that it was taken away because she was seen as an unfit mother.
As a result, Libby learns that her child is living in a children's home nearby and she takes her away. Howard, along with Kreizler and Moore, finds both Libby and her daughter in an abandoned building. After a discussion, Libby agrees to let go of her daughter and Libby is arrested and later sentenced to death.
Overall, "The Alienist: Angel of Darkness" is a crime drama that holds many twists and turns in its plot. It also features the growth and development of the three main characters and even has a little relationship controversy. This crime drama is one that has its audience thinking till the very end.
Leave a Comment
About the Contributor
Morgan Kafana, Culture Editor (spring)/Graphic Designer (fall)
Morgan Kafana is a freshman at West Liberty University. She served as graphic designer and now holds the position of Culture editor.  In high school,...