'Much Ado About Nothing' play putting WLU theatre back in action this month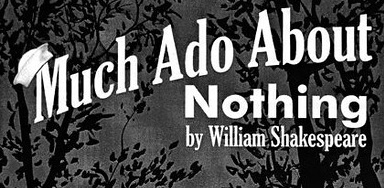 The WLU Theatre is back in action this month with an outdoor production of an adapted version of William Shakespeare's 'Much Ado About Nothing'. Due to social distancing practices, seating will be at a limited capacity with 75 seats per performance. The show will take place on the patio behind the Fine Arts building beginning April 23.
WLU Adjunct Theatre Professor, Shelby Garrett, is back as director alongside Cassandra Hackbartwith, several other familiar faces making up the cast and crew. Costume and set design is headed by Meta Lasch while props are being managed by Isabella Constantini.
This fun-filled play has been a long time coming, with the initial casting taking place back in December 2019 before the first peak of the COVID-19 pandemic. The cast and crew have had to persevere to keep the production running through the recent hard times. "Since being back in person, the atmosphere has been in a constant state of excitement!" Garrett said. She added, "I think everyone is just so happy and grateful to be back in the theatre, working on a script and being able to play again."
WLU is producing an adapted version of Shakespeare's original work. The story is set in the year 1945 and told through music as well as the spoken word. The cast and crew have also added a modern twist to the tale making it incredibly relevant to life in 2021. 'Much Ado About Nothing' incorporates themes of gender roles, self-resilience, independence, and deception. Although light-hearted, the show is not afraid of tackling some of the big issues.
The cast list is crammed with Hilltopper favorites such as Doug Torres, Grant VanCamp, Caleb Byard, Ben Games, Odessa Hores, Benny Mounsey, Keenan Seditz, Alexandria Glover, Emma Gragan, Merritt Craft, Autumn Carver, Josie Jarrett, Greyson Grimmett, Isabella Costantini, Delaney Bird, MaKenna Berka, Fiona Rushton, and Dominic Martin. This is the last semester on the Hilltop for some of these familiar faces after a successful career at West Liberty.
Tickets cost $12.50 for the General Public, $10 for seniors, $8 for students not currently enrolled at WLU, and $5 for WLU with a valid student ID. Tickets can only be purchased with cash or check. Tickets can be reserved by contacting WLU Theatre Department Chair, Michael Aulick, by email at @[email protected]. Tickets can also be purchased at the door of the Fine Arts Building in the Box Office on the day of the performance.
Weather permitting, the opening night is set to be Friday April 23 at 5.30p.m. which is coincidentally Shakespeare's birth and death day. Performances will also take place on April 24 and April 25. Both the Saturday and Sunday performances will begin at 3p.m..
Take a break from school work and support the WLU theatre department by going to see the WLU production of 'Much Ado About Nothing'.
Leave a Comment
About the Contributor
Anna Johnston, News/Sports Writer (Fall 2022)
Anna Johnston is a WLU senior from Linlithgow, Scotland. This is Johnston's fourth year as part of the Trumpet team, having taken on a variety of roles...