Top Five Ways to Throw a Great Labor Day Party!
By Jessica Broverman Editor
Throwing a party is difficult considering all of the different challenges that they come with. Food, drinks, music, atmosphere and so on. Many believe that parties are even more difficult to plan when they are centered around a theme or holiday. On the contrary, Labor Day is one of the best holidays to throw a party. Not only is it a legitimate reason to celebrate our country and our people, but it gives us an opportunity to put our patriotic colors to use.
One of the main reasons people go out to a party is for the food. On Labor Day barbecue based meals are the main dish amongst fruit and cold beverages. Making your very own barbecue rub and grill some chicken or steaks.
With a few side dishes this can be just as effective as having a huge spread. Keep it simple and provide your guests with the basic barbecue foods.
Chicken, potato salad, baked beans, cole slaw, and so on. Ask your guests to bring a little something to add to the festivities. As a dessert you could always doAmerican flag kebabs.
 You can find the ingredients for this easy and delicious dessert on Pinterest and it is also under 15 dollars to make!
The atmosphere is one of the trickiest parts of throwing a shin-dig. Though something sounds great in theory, that doesn't mean it will actually work.
Many people like to celebrate at a local park or in their backyards and let's face it, you can't have a barbecue indoors. When you throw an outdoor Labor Day party be sure to prepare for natures elements.
Find out what the weather forecast is, set up mosquito lamps and provide your guests with plenty of shade to relax in.
Also, remember that if you are celebrating at home take advantage of the fact that you can have a slip-and-slide at your event or anything that is fun and active.
This is something that could be taken away or stopped when at a public park due to the possibility of injury.
Music can really set the tone for a good, bad or great party. If you are throwing a graduation party, you wouldn't play the song, "I hate everything about you," by Three Days Grace.
You also wouldn't put on, "Hurt," by Johnny Cash at a twelve year old's birthday party. As for a Labor Day party, I would suggest a mixture of patriotic songs as well as upbeat tunes.
Playing rock and roll songs by Bruce Springstein, as well as more current artists like Natasha Beddingfield can bring the life to your party that mellow songs wouldn't.
It is extremely important to stay hydrated when partying outside in the hot summer sun. Help your guests beat the heat by serving up delicious patriotic themed drinks.
A cheap and easy one is simply called the red, white and blue drink. You will need blue Gatorade, a pine apple flavored Sobe brand beverage and a bottle of Ocean Spray's cran-apple.
You will pour each of these drinks one after the other at a gradual pace. The trick to not mixing these liquids together is by looking at their sugar contents.
Starting with the cran-apple beverage and ending with the blue Gatorade will ensure that this drink resembles an American flag and not a cup of purple Kool Aid.
Top it off with a patriotic decoration, such as a mini American flag or a strawberry on the rim of the glass.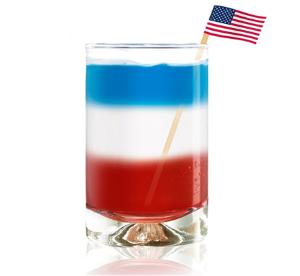 The absolute most important part of every Labor Day party is to remember why you are celebrating it in the first place.
If you celebrate an American holiday and don't show respect for those who gave you the chance to have a party, well frankly you do not deserve it.
So when you are eating your American flag kebabs and listening to, "Born in the U.S.A.," remember who gave you that privilege.
To all of those celebrating this national holiday, be safe and have fun. As for all of the men and women who have worked hard for our country and cannot celebrate with us, we salute you and honor you on this day.