Toppers go Greek: A look into Rush Week
The fall semester of school is back in full swing and new students are settling into their home away from home, so you know what that means: sororities and fraternities are eagerly awaiting new members to find a home within their brother or sisterhood. After a year of recruiting interested Hilltoppers through Zoom, the Panhellenic community was able to host their annual rounds of recruitment in Campbell Hall on Sept. 10 through Sept. 12.
Students curious about Greek life mingled with each organization to discover where they fit during this three-night process. Rush week began with 30 minute introduction rounds to all five sororities. Day two consisted of four, 45 minute rounds focused on the philanthropic work sororities participate in and day three was a preference round where sororities selected the girls they wanted to invite back for two, hour long rounds.
Allie Morrocco, the Panhellenic president, described West Liberty's recruitment process by saying, "Our recruitment process is so much more laid back than what is seen in the media. There is no judgment, zero tolerance for hazing and everyone is welcome as they are. All of our women are so supportive of one another."
Those who received bids, otherwise known as formal invitations, ran home to their sisters during the final bid day celebration on the Quad. A total of 29 girls were welcomed to the Panhellenic Community.
For men interested in going Greek, the recruitment process in the fall and spring consists of meet and greets or events that teach the men about the history of their preferred fraternity. Unlike sororities, fraternities can recruit men through an informal style of recruitment and give out as many bids as they want.
Pledging Greek is more than just making friends; it's about coming together to aid the community, gain leadership and grow as a person.
Responsibility and leadership are some of the main qualities you can gain from joining a Greek organization. Sydney Burkle, president of Alpha Xi Delta, assumes many responsibilities by running and organizing weekly meetings, being a bridge between campus and fraternity headquarters and looking out for the wellbeing of everyone in the chapter.
The key to finding an organization that will allow you to grow as a person is keeping an open mind and branching out to all members of the Panhellenic community. Sydney Jefferey, president of Chi Omega, expressed her love for sorority life by saying, "I have learned to manage my time and work with a large team of people. I wouldn't have learned how to truly tackle either one of these concepts without being in Greek life."
All Greek organizations come together to benefit the university, as well as the Wheeling community through philanthropic work.
The five fraternities on campus include Chi Nu, Theta Xi, Phi Delta Theta and Kappa Delta Kappa. Sororities on campus include Alpha Xi Delta, Lambda Psi Sigma, Delta Theta Kappa, Chi Omega and Beta Rho Epsilon. Beta Theta is a newly developed co-ed organization on campus.
Beta Rho Epsilon gives back to the Wheeling area by volunteering at the YWCA to support women and children who are victims of domestic violence and need help getting back on their feet.
"Live like Lou is Phi Delta Theta's philanthropy. It is important to us because ALS is such a terrible disease that affects so many families. We want to do our best to help these families as a way of honoring Lou Gehrig, one of our brothers who suffered from ALS ," said Andrew Dalton, member of Phi Delta Theta.
Men and women who missed out on last week's formal recruitment process can still find a home within a Greek life organization by attending a continuous open bidding (COB) event within the next two to three weeks. These events can range from movie nights, arts and crafts or dinner on the quad.
For girls who may be on the fence about joining a sorority, Jefferey's believes "Keep an open mind! You'll learn so much and experience a lot by just going through recruitment in general. You never know who you'll meet."
For more information about upcoming Greek life activities and going Greek, feel free to visit the WLU ActivitiesTwitter page or contact Kate Billings, director of Student Activities, at [email protected]
Leave a Comment
About the Contributor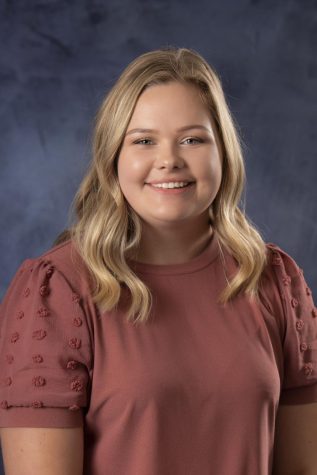 Brianna Hamon, Editor-in-Chief
Brianna Hamon, editor-in-chief of The Trumpet, is a senior at West Liberty University with a major in public relations and a minor in journalism. In the...