Exclusive Player Spotlight: Theresa Evangelista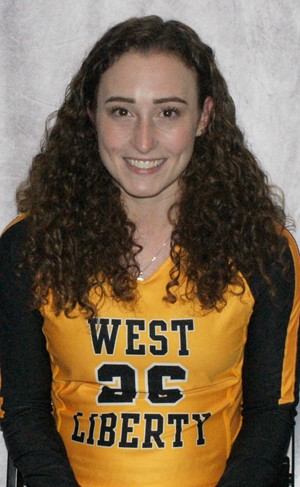 When West Liberty University (WLU) announced the addition of Acrobatics and Tumbling to their gauntlet of NCAA Division II sports, Theresa Evangelista was one that was called upon to help propel the program to where it is today. The Zebulon, N.C. native has had quite the stellar career on the Hilltop, as her list of accomplishments continue to grow. Majoring in pre-medicine, Evangelista's academic success has been recognized across the Mountain East Conference with an All-MEC Academic Selection, along with three straight NCATA National Honor Roll Selections. Furthermore, her athletic success has been quite unique, as she was the (first) 1st-Team All-MEC Selection in school history as a freshman.
Evangelista was generous enough to share her journey from how she began to where she is today. A graduate from Franklin (N.C.) Academy, she is set to begin her fourth season with the team. When asked about what sparked her interest in acrobatics and tumbling, Evangelista said, "I became interested when I heard it was an emerging sport for women. My mom was actually on a gymnastics team when the sport of gymnastics was an emerging sport when she was in college, so it was always cool to me to make history just like she did when she was in college."
Family ties have always been important to Evangelista, whether it be during play or during other aspects of life. It comes to no surprise that these family values keep her motive running to help her achieve the success she has experienced thus far. When asked about her favorite memory of her entire competitive career, Evangelista did not hesitate to give an answer, stating, "my favorite memory was this past season, when the team as a whole got to experience the first Mountain East Conference event victory West Liberty has ever had. This, paired with it being the season after Covid was very special to us."
With the beginning of the season fast approaching, it was important to ask Evangelista her expectations for this season, and how those expectations translate to the team's overall vision for this year. As a result, she replied, "my expeditions are to always be better than the year before. I feel that every year I have been on the team the team has improved leaps and bounds, so this year I do expect us to be better and stronger, and I know we can achieve that. I do hope to win the MEC Championship this year, mainly because this is my last year, and that would be amazing if we could go out on top like that."
Finally, although competing for the black and gold has been a dream come true for Evangelista, she does understand the importance of setting herself up for success with life beyond the Hilltop. When asked if she had any plans following college, she replied by stating that, "[m]y main plan for after college is to take a gap year. From there, I would love to apply for a masters program, specifically in genetic counseling, mainly due to the fact that I want to pursue a career as a genetic counselor."
Last year with the shortened COVID-19 season, the Hilltoppers Acrobatics and Tumbling team posted an overall record of 4-3, including a 3-1 record against Mountain East Conference foes. The losses they had were all competitive matchups, and proved to be terrific learning experiences for the team as a whole. Although they came up just short in the MEC Championships, a redemption season is very much in play, and with a leader such as at the helm, the Hilltoppers are primed for a terrific season this year.
Leave a Comment
About the Contributor
Maxwell Fiedorczyk, Sports Writer
Maxwell Fiedorczyk is currently a senior at West Liberty University. A native from Weirton, W.Va., Fiedorczyk serves as the sports writer for The Trumpet....