Meet WLU Head Cross Country and Track Coach, Justin Simpson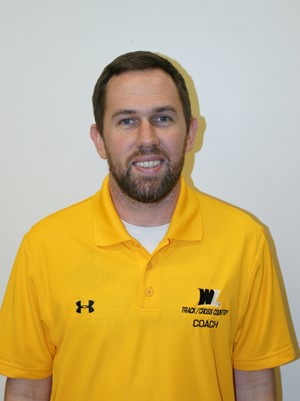 From no track and a small steam to a thriving program, Head Cross Country and Track Coach Justin Simpson shares his love for the sport.
Starting his running career in seventh grade, Justin Simpson just wanted a sport to be in with his friends. Aware of his size and lack of ball handling skills, he heard his friends joined the track team and decided to join as well. During a meet, his coach asked him to run the mile race, and he broke the school record on the first try. The praise from the adults inspired him to keep at it.
"Like a lot of people in this sport, I got into it because others told me I was good at it, and that felt good." Simpson said.
As he kept running, the times got better, and he broke more records just in his middle school career.
Years later, he found himself as a coach at West Liberty University, but it was no easy task. To become a head coach in the NCAA is extremely difficult because of the sparse job openings.
"There's really only two ways to [become a head coach] and that is, be an Olympian, or spend a long time as an assistant under a head coach." Simpson said.
When he got the call to come up to the Hilltop, he saw it as a great opportunity for himself as a state champion and as a Footlocker National finalist – one of five ever in West Virginia's history. He knew the area, knew the runners and this was his chance as an NCAA head coach. However, when arriving at West Liberty, he noticed a problem.
Simpson received a roster of only 26 total athletes on both men and women's cross country and track combined.
"We just didn't have the numbers to be good. In track you have to swamp all of the events. You can't be good at two things. You have to be good all the way from the 100 to the hammer throw. You have to be good at everything and to do that you have to have the numbers." Simpson said.
With low numbers and a low conference standing, the team had a challenge in front of them. On top of that, the only track in West Liberty was a small two-lane track around the football field that stretched roughly 320 meters including four 90 degree turns. Recruiting a new team for a school that did not have a track was an obstacle Coach Simpson knew he had to overcome, and he believed he could.
"You go anywhere to a college and think, 'Oh if there's a track team then they must have a track.' And we didn't, which baffled me. Would you have a tennis team without a tennis court? Would you have a softball team if you didn't have a softball field? Would you have a football team without a football field and so on. And the answer would be no."
When word got to him the process of getting a new track and field facility was in the works, Simpson was relieved. Just to have a track would make West Liberty on par with other competing schools.
"I had so many meetings with President Greiner of what I needed – just basic stuff I needed for a track program. I need hurdles because I needed hurdlers. I need high jump pads because I needed high jumpers, and he always got it for me."
The two-year construction of the new West Family Athletic Complex was finished just in time for the COVID-19 pandemic to shut everything down.
"That spring we didn't even have a season and I'm like 'this is the most ironic thing in the world!' Two years I waited for this thing, and I'm told all my athletes are going home," Simpson said.
Overcoming many hurdles in six years, Coach Simpson only had a small team, but a big vision. With him, West Liberty has a whole new track and field program with a full team of runners, and more coaches to train them throughout their career.
Leave a Comment