West Liberty Volleyball defeats Frostburg State
West Liberty women's volleyball (11-9) continues their journey along Mountain East Conference (MEC) play with their matchup against Frostburg State University. Entering this contest Frostburg held a 4-11 record; however, following Friday night's loss, that record fell to 4-12. Frostburg as a whole has had a rough showing for their 2021 season so far. Eight straight losses to open the season against the likes of Shepard, Ohio Dominican, Tusculum, Indiana (Pa.), California (Pa.), Edinboro and Bloomsburg. Frostburg did not find their first victory until their matchup against Lockhaven, in which they won that contest in five sets. Including their matchup against West Liberty, Frostburg holds a 1-3 record in MEC play, with their only win coming against Alderson Broaddus. Despite their season woes, Frostburg gave West Liberty a battle until the end.
Entering this matchup, West Liberty had saw themselves essentially going back and forth in the wins and losses column. Now 2-2 in MEC action, West Liberty now looks to string together some wins. In the opening set, West Liberty found themselves taking a quick 3-1 lead, but Frostburg went on a massive tear, which included a 7-1 run, and took the lead for the set 8-4. That was the largest lead Frostburg held in the first set, while the team also saw themselves holding a 10-7 lead later, but it was the eventual collapse due to simple miscues that doomed Frostburg, and West Liberty was able to go on and end the set on a 6-2 run, winning by the final of 25-18.
The second set showed the difficulties West Liberty faced over the course of play, and Frostburg capitalized on those miscues. With a set for the most part going back and forth, a 18-18 tie separated both teams from either growing their set lead, or evening the game all around. A 4-1 point run from Frostburg late in the set gave them the advantage they needed, and they ran with it, winning the evening second set 25-21.
In set three, West Liberty looked dominant. Every play and decision was as fluent as can be, and it ultimately helped spark an opening 9-1 point run, including eight straight points to open the set. The beginning of set three against Frostburg was the best start to a set West Liberty has had at home all season, however Frostburg stormed back into the set following their first timeout, and made it competitive again. Now with West Liberty leading only by one at 11-10, the black and gold was as stunned as Frostburg was in the opening of the set. With both teams not digging their heels in, West Liberty dug harder, and took a 16-11 lead. Another Frostburg retaliation tied the set late at 21-21 and both teams battled even to 25 points to extend the set. However, West Liberty capitalized with simple Frostburg miscues, and captured the set thanks to kills from Nina Billotto and Madison Clayton.
The final fourth and final set again did not come without battle, and saw both teams exchanging unbelievable blows throughout the entirety of the set. A five point run by Frostburg being down 6-4 gave them the 9-6 advantage over West Liberty. An answer by West Liberty tied the set at 11-11, and later the set was also tied at 23-23. With two straight attack errors along with a kill from Riley Cudnik, West Liberty finally captured the win against Frostburg three sets to one.
Clayton led the Hilltoppers in kills with 15, Kirsten Bogunovich had 42 assists, and finally Nyia Setla had 22 digs.
The Hilltoppers will next travel to Glenville University on Friday, Oct. 15 at 7 p.m.
Leave a Comment
About the Contributors
Maxwell Fiedorczyk, Sports Writer
Maxwell Fiedorczyk is currently a senior at West Liberty University. A native from Weirton, W.Va., Fiedorczyk serves as the sports writer for The Trumpet....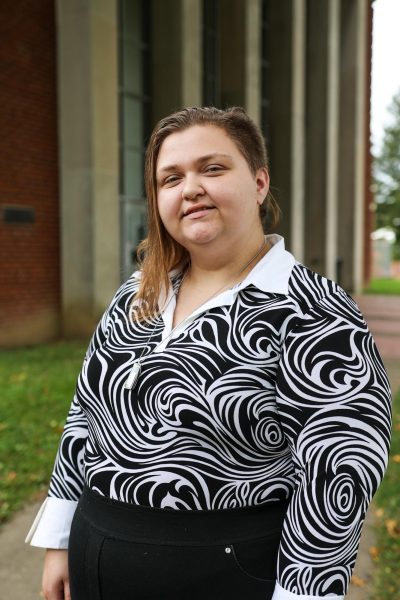 Haley Blakemore, Photo Editor/Social Media Manager
Haley Blakemore is a Senior in English Literature  with a minor in Journalism from Reeader, WV. Blakemore has been on staff for the Trumpet since 2019....