Professor Profile: Aron Massey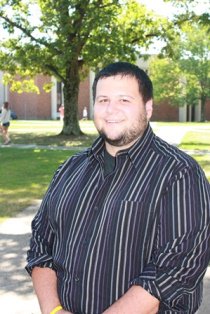 Professor Aron Massey is an assistant geography professor and planning at West Liberty University (WLU). For 10 years, he has been teaching at the WLU covering many courses within geography. The courses Professor Massey teaches include: world geography, physical geography, Appalachian environmental issues, natural disasters, geographies of pop culture, and other courses relating to geography.
Massey was born in Charleston, W.Va. where he lived there for the first few years of his life before his family moved upstate where he grew up in a suburb just south of West Liberty. He attended Wheeling Park High School and after graduation he attended West Liberty State College where he obtained an undergraduate degree in geography. After West Liberty State, he went on to attend Kent State University in Kent, Ohio, where he would get a masters in geography as well as study the steel making of Weirton, W.Va. After graduating from Kent State, he spent a few years teaching geography courses at Kent State and at its many satellite campuses that would include Kent State Salem, Ashtabula and Geauga.
After teaching courses at Kent State and its other campuses, he was able to get a job offer as an adjunct professor at WLU. After one year of teaching, he became a full-time faculty member as a professor for geography and planning. Other things he is involved with at West Liberty is being a coordinator of social studies education. Along with being an adviser for students that plan to become teachers in history and social studies with overseeing the internship in geography and planning at the university. Massey is the advisor of Chi Nu fraternity and Gamma Theta Upsilon which are the geography honorary societies of WLU. He also advises two clubs on campus including the geography club and the sustainability club.
Hobbies outside of his work at the university include being a home-brewer. Having his own brewing set in the garage of his home, he makes his own homemade cider, wine and beer. Reasoning for his brewing interest started when he worked at a winery while attending Kent State. With his brewing skills he is a member of the Wheeling Alers Brewing Club where they participate in various fundraisers in and around Wheeling. Another hobby he has is collecting many types of shoes ranging from Nike, Adidas, Air Jordans and Converse. Many from the 1980s and the 1990s.
For more information about Massey's educational background, please visit his directory by following this link.
Leave a Comment