West Liberty crowns new Homecoming King and Queen
West Liberty University (WLU) kicked off their annual crowning of the Homecoming King and Queen during the Saturday, Oct. 16, football game. After a year of putting Homecoming on hold due to COVID-19 rules and regulations, WLU students and alumni congregated at West Family Stadium for tailgating and other festivities.
Voting for Homecoming King and Queen began online starting Friday, Oct. 15 where WLU students chose from a total of seven candidate couples representing different parts of campus life. All five sororities and four fraternities on campus were represented as well as groups ranging from the football team, track and field, the dental hygiene program and housing and residence life. The seven pairings who ran for Homecoming royalty were: Joey Adams and Autumn "Grace" Dodson, Parker Sherry and Sierra Aniballi, Sydney Jefferys and Christian "Gary" Braithwaite, Mycah Ritchea-Yoho and Jacob Walker, Jenna Mankowski and Michael Runkle, Hannah Jacobs and DiDi Prajnabhakti and Tianna Myer and Parker Mazik.
The Homecoming activities began with an early parade where the chosen candidates of Greek Life and other WLU organizations drove through campus and the town of West Liberty for a pre-celebration to the halftime crowning ceremony.
After the 1 p.m kickoff where West Liberty took on the Fairmont State Falcons, the football players cleared the field for the crowning of WLU's Homecoming King and Queen. The crowning ceremony was ushered in by the playing of WLU's alma mater by the Marching Hilltoppers.
The queen and king, chosen by the student body, were named as Autumn "Grace" Dodson and Parker Sherry. Dodson, a resident of Colliers, W.Va and a member of Lambda Psi Sigma and Sherry, a resident of East Palestine, Ohio and quarterback for the Hilltopper Football team, was announced as king.
Dodson is the daughter of Robert, Rhonda and Wendy Dodson and a senior pre-veterinary biology major. Dodson's post-graduation plans consist of veterinary school or graduate school for a master's in biology at WLU. Her interest in running for Homecoming Queen sparked from an interest in representing Lambda Psi Sigma in a positive manner.
"I was completely shocked and over the moon when they announced that I had won. Being the Homecoming Queen means that I am held to a higher standard than others with regards to my behavior and how I carry myself because I am presenting my university as a whole, " said Dodson.
Sherry is the son of Elizabeth and Zach Sherry and a junior triple major in the Gary E West College of Business. Sherry's majors consist of finance, marketing and accounting.
Dodson and Sherry's running mates were both selected as runner-up's. Joey Adams, a resident of Crooksville, Ohio and a member representing Kappa Delta Kappa received Homecoming King runner-up and Sierra Aniballi of Greensburg, Pa. and a representative of Housing and Residence Life was selected as Homecoming Queen runner-up.
Before the crowning of Dodson and Sherry, a surprise marriage proposal took place between homecoming candidate Hannah Jacobs, and WLU alumni Jonathon Howard. Howard presented Jacobs with a ring as her parents and running mate escorted her down the 50-yard line. Jacobs is senior elementary education major and the president of Delta Theta Kappa, a local sorority founded on WLU's campus. During his attendance at WLU, Howard was a member of Phi Delta Theta.
The surprise proposal and crowning was followed by a well-earned win for the Hilltopper Football team. The Hilltoppers fought their way out of a 30-30 tie within the last two minutes of the game and raised the spirits of all WLU students and alumni who were in attendance.
Students concluded the Homecoming day full of music and festivities with a dance that began at 10 p.m. and ended at 2 a.m. in the Academic, Sports and Recreation Complex Building (ASRC).
For more information about this article and last week's Homecoming festivities, contact Maureen Zambito by calling (304) 280-6074 or view her press release regarding the Homecoming game-day events.
Leave a Comment
About the Contributor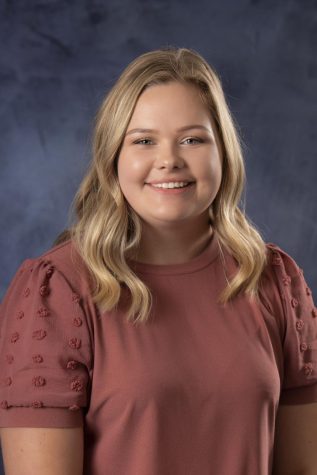 Brianna Hamon, Editor-in-Chief (Fall 2022)
Brianna Hamon, editor-in-chief of The Trumpet, is a senior at West Liberty University with a major in public relations and a minor in journalism. In the...