Clubs and Greek organizations collaborate for Domestic Violence Awareness Month
In honor of domestic violence awareness month, West Liberty University (WLU) Greek life and clubs have gathered to provide education on the subject of domestic abuse to students through walks and tabling in the union during the month of October.
The first event, an awareness walk hosted by sorority Lambda Psi Sigma, took place on Wednesday, Oct. 20. All students on campus walked four laps around the quad while stopping at tables of groups asked to collaborate. Between each lap, the participants were able to speak to members of Beta Rho Epsilon, the Criminal Justice Society, WLU student life representatives and Lambda Psi Sigma.
Beta Rho Epsilon (BPE) participated in this event because of their connection and philanthropic work with the YWCA (Young Women's Christian Associate) of Wheeling. The YWCA devotes a large portion of their time and resources to ending domestic violence which BPE works to mimic in their educational events on campus. The YWCA not only educates but provides direct help to victims by providing them with opportunities that allow them to get back on their feet.
According to Lindsay Manor, BPE's philanthropy chair, BPE provides facts, statistics and resources of who to contact in certain domestic violence situations as part of what they teach.
In response to why BPE chose to collaborate with Lambda Psi Sigma, Manor explained, "We decided to participate because we love doing events related to domestic violence. We are super passionate about it (domestic violence) as an organization and it's important for us to come together and stand together for important topics like this."
The second table students visited during their lap around the quad was the Criminal Justice (CJ) Society. The CJ Society was present during last year's domestic violence walk hosted by Lambda and when asked why they decided to return, Austin Gray, a member of the CJ Society stated, "We participate in this walk for a few reasons such as promoting awareness, inspiring for positive change and making a difference in the community. Our organization believes in making a difference in the lives of those who have been negatively impacted by such events."
Gray went on to explain that beyond the spreading of awareness, the CJ Society has also made hygiene kits for the women under the care program of the YWCA in the past and they plan to continue this by selling raffle tickets and using the proceeds to purchase supplies. Students who purchase raffle tickets are put in a drawing for a Yeti cooler, two insulated Yeti cups, a speaker and an array of treats. The supplies inside the kits include toothbrushes, feminine products, shampoo and body wash.
The CJ Society is looking to expand their hygiene kits and resources to other shelters in the Wheeling area because they believe in sharing their help to those in need, according to Gray.
Other domestic violence awareness events include BPE's Halloween treats and trivia table that took place on Thursday, Oct. 28 in the Student Union. Students stopped by the table and answered trivia questions for a chance to win Halloween themed prizes and candy. Manor provided some of the questions asked during the event and this included questions like "what types of behavior indicates a sign of relationship abuse" and true or false questions such as "domestic violence usually happens in married adult couples". If a student answered correctly, they could pick out a prize sitting at the table.
Beta Rho Epsilon hosts many events throughout the year devoted to domestic violence awareness and they plan to host their annual Take Back the Night walk in honor of this topic next semester. This event will feature members of the YWCA and resembles the set up of Lambda's annual walk.
For more information about this article and the domestic violence events that have occurred through the month of October, please contact Brianna Hamon at [email protected] or visit Student Life on their Instagram and Twitter pages.
Leave a Comment
About the Contributor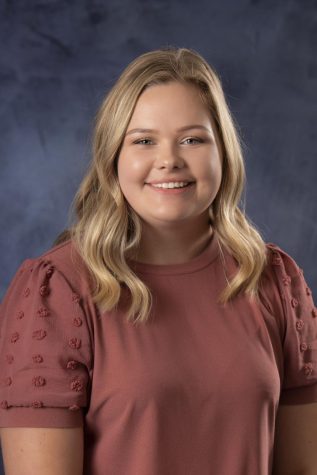 Brianna Hamon, Editor-in-Chief
Brianna Hamon, editor-in-chief of The Trumpet, is a senior at West Liberty University with a major in public relations and a minor in journalism. In the...