West Liberty version West Virginia State Preview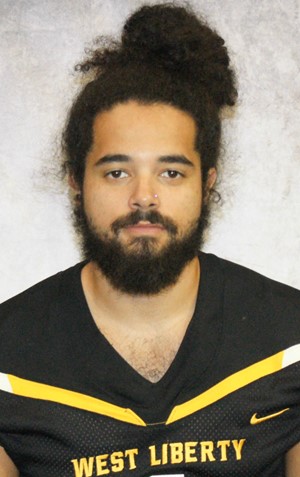 The West Liberty football team (4-5) is switching gears after faltering to UNC Pembroke (6-3) late in the fourth quarter. For the second straight week, the Hilltoppers coughed up a fourth quarter lead.
The Hilltoppers had some highlights from the game that will give them something to build upon for their Senior Day and home season finale on Saturday, Nov. 6 starting at 2 p.m against West Virginia State.
West Liberty junior David Gilcreast was one of the bright spots from Saturday's game. He wreaked havoc on the defensive side of the ball all game. Gilcreast had 9 tackles, 2.5 tackles for a loss, 2.5 sacks, a forced fumble and a fumble recovery. For his effort on Saturday, he was named The Trumpet Hilltopper Athlete of the Week.
Not far behind Gilcreast was two sport athlete and sophomore Maceo Christmas. He had a game high 11 tackles with 4.5 resulting in a loss, and he also picked up two sacks.
The Hilltoppers will look to follow the leadership and on field play that Christmas and Gilcreast have shown.
The Hilltoppers opponent for next week will be West Virginia State University (5-4). They will be coming into Saturday's game with a two-game winning streak and their last loss coming at the hands of UNC Pembroke Braves. The final score of the UNC Pembroke and West Virginia State game was 14-13 Braves.
The Yellow Jackets of West Virginia State have both had a decent year where they sit above average in most statistical categories. They are ranked fifth in the Mountain East Conference in passing yards at 1,985 yards. They are fourth in the MEC in rushing yards per game at 166.8. They however are below the Hilltoppers in offensive points per game. The Yellow Jackets sit in seventh with 19.8 points per game while the Hilltoppers sit in sixth with 21.8.
The Hilltoppers sit in ninth for passing yards with 203.8 per game. On the ground the Hilltoppers rank eighth with 94.4 rushing yards per game.
The Yellow Jackets defense is impressive and has kept them in every game they've played. They sit in third closely behind Charleston and Notre Dame with 16.9 points allowed per game. The Hilltopper defense is ranked sixth in the MEC with 22.3 points per game allowed.
This game will surely make for some entertainment as the Hilltoppers will look to get their seniors one last home victory while the Yellow Jackets look to play the role of spoiler. Make sure to show up and support the Hilltoppers as they will take their home field one last time this year on Saturday, Nov. 6 at 2 p.m. For more information visit HilltopperSports.com.
Leave a Comment
About the Contributor
Ross Salvatori, Sports Editor Intern (Fall 2021)
Ross Salvatori is a senior at West Liberty University double majoring in Integrated Communication Studies and Advertising with a minor in Journalism. While...