Meet Lori Hudson, new WLU Vice President of Fiscal Affairs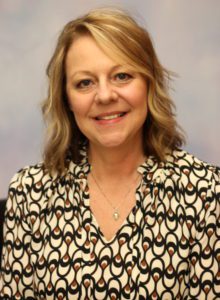 Back in late September, West Liberty University hired a new Vice President of Fiscal Affairs. The person entitled is Lori Hudson, and she plans to make quite an impact with her newly acquired position.
Hailing from Bellaire, Ohio, Hudson has been in higher education for about 25 years. Prior to her joining West Liberty, she formally served as controller, acting vice president and chief financial officer at Wheeling University. Hudson attended Wheeling University back when it was known as Wheeling Jesuit University and obtained a Bachelor of Science degree in accounting.
Hudson's drive to make an impact financially is what made her gravitate toward West Liberty.
"I researched the University and was interested in being a part of such a forward-thinking institution, especially with regard to the research conducted and the unique opportunities available to the students," said Hudson.
In her leadership role, Hudson has a couple goals she wishes to accomplish during her time at West Liberty. Some of those goals include setting up a framework for long-term success and creating a budget surplus that can be reinvested in the institution.
"I believe it is very important that everyone shares the same vision and goals, and that means involvement by everyone at West Liberty University, including faculty, staff, students, the President, Board of Governors, alumni and the community," said Hudson.
Along with these goals, Hudson also intends to prioritize West Liberty students. One of the obstacles Hudson faces is decreased enrollment which, consequently, puts a strain on the institution financially. Hudson plans to put West Liberty in a better position so that more opportunities are available to administrators, faculty, staff and students.
"Our university is no different than many universities in that there is a decline in students enrolled. This in turn, creates a situation where your expenses are greater than the revenue you bring into the institution. Therefore, careful monitoring of expenses becomes necessary along with strategic planning and focusing on improving student outcomes and ways to generate more revenue," said Hudson.
With her ambitious goals and attitude, West Liberty University President, Dr. W. Franklin Evans, expressed his joy for Hudson's arrival on campus.
"Ms. Hudson has been a wonderful addition to West Liberty University. Her wealth of business experience in higher education is an asset to our Division of Fiscal Affairs. She is a team-player and is skilled at working collaboratively with other units across the campus," said Evans.
As the new Vice President of Fiscal Affairs, Hudson will serve on the President's cabinet and will supervise the business office and its employees.
Leave a Comment
About the Contributor
Kaitlynn Wheeler, Videographer/Staff Writer
Kaitlynn Wheeler is a senior at West Liberty University majoring in broadcasting. She works for WLU's marketing department as a voice actress. Wheeler...