Student Brooke Anderson brings a dance team back to West Liberty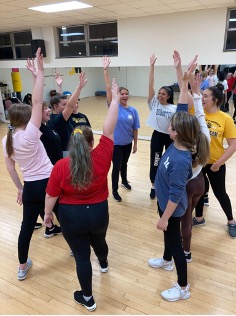 West Liberty University (WLU) has reintroduced its dance team for the 2021-2022 school year thanks to current student Brooke Anderson. The team is planning on reinventing their image and school involvement during this year's activities.
Anderson, a secondary education major in her sophomore year, has spent 10 years of her life training in all different styles of dance. This includes jazz, ballet, pointe, hip-hop, tap, lyrical and gymnastics. Throughout her time as a dancer Anderson has fallen in love with the art and has decided to take it to a collegiate level.
WLU has had a dance team on various occasions throughout the past, however none that have had a lasting or long impact.
When asked about how she was able to get the program started again Anderson said, " I went to Kate Billings at the end of my freshman year inquiring about the dance team. She informed me that it had dwindled out but that I was able to start the club back up. With Camille Irvin as an advisor, we were able to get the team in the works and sent out an interest form and it only grew from there."
The positivity that radiates in the team seems to be impressive. After speaking with the team, it became clear that they are eager to perform. Games, school events, and community events are all in the near future for the girls.
Kelcie Cottis, a freshman dance team member, said that despite her varying background in majorettes, she "loves how supportive and close knit everyone is. This has made me want to stick around even more no matter the skill level."
The team was started back up at the beginning of this school year in September. The team has been holding weekly practices to get ready for their performance season.
When asked about what their favorite part of being on the team was, Emily Anderson replied, "I love that I've made so many new friends and that I've met a group of people who have helped me to become more confident. When I started to dance, I was really nervous but everyone is so supportive and helpful."
The team had their debut performance last month for a school pep rally and followed it with a performance at the homecoming tailgate and game. The dance team is hoping to get more recognition and demand across campus with public performances.
Leave a Comment