Campus food pantry receives generous grant from Sodexo
The West Liberty University (WLU) food pantry is restocking their shelves with new selections after recently receiving a generous grant from the Sodexo Stop Hunger Foundation.
Sodexo Food Service Manager of WLU, Rebecca Bowman, applied for the grant as a complete surprise to Kate Billings, director of student life and the on-campus food pantry, to alleviate food insecurity among students. Upon acceptance, Bowman presented the $1,000 grant to the University Food Pantry.
"It was really great to see our campus partners see that need and support us (the food pantry), " explained Billings. "$1,000 in a food pantry can go a really long way. When we started off the pantry, we did a $500 purchase which filled up an entire university van, so $1,000 is even crazier to me."
In an article published by Maureen Zambito, director of media relations, Bowman expressed that she was pleased to be accepted and provide students with more options for healthy eating.
The food pantry hopes to build their supplies through the purchase of a fridge or freezer that provides microwave-limited students with a larger variety in meals. Through the newly received grant, Billings explained that the food pantry can look into these options and achieve their goal of expansion.
The Stop Hunger Foundation partners with Sodexo to raise funds for non-profit organizations that work to end hunger for every child in the United States struggling with food challenges. In the past, the foundation distributed over four million meals to people and organizations in need.
The recent opening of the WLU food pantry has sparked conversations between WLU and Sodexo regarding a solution to food insecurity on campus. While this plan is not finalized, Billings explained hopes of introducing a swipe donation system where students with unused meal swipes can donate meals to a bank of swipes that are transferred to students in need.
The idea of a swipe donation system was brought to light by Aubree Story, a social work major at WLU. Story and Billings explored this situation to eventually find Swipe Out Hunger, a non-profit that directly works with food services like Sodexo.
"With this non-profit, you can tailor your program for what best fits your campus. Whether it's direct donations or meal donation swipes, that percentage of money then goes toward food for the food pantry," explained Billings. The idea of this collaboration is in the early stages of development, but they hope to introduce this program within the next year.
In the past, the food pantry has received monetary donations through their WLU Foundation account, but this is the first grant to be received from a third-party vendor like Sodexo.
"Hopefully other people in the community or vendors in the area see this donation as an opportunity to get involved at West Liberty and support our food pantry," said Billings.
The WLU food pantry is a new initiative that resurfaced during the 2021-2022 academic year after closing around 2015. After revaluating the university's diverse group of students, Billings and members of student life decided to reopen the pantry's doors on the second floor of the Student Union.
The food pantry runs on monetary and food donations from community members, staff and students. Students visiting the pantry select what they need through an anonymous process. Those visiting for the first time must fill out a student intake form that asks for their student ID number for future research regarding how to better serve the students visiting the pantry. Students returning to the pantry after their first visit must complete an anonymous inventory sheet that asks for the number of items selected.
With the beginning of the semester well underway, the food pantry is fully stocked and welcome to all students. Those interested in the sustainability of the on-campus food pantry can donate by purchasing items from their Amazon wish list.
For more information or questions about the food pantry and their recent Sodexo grant, contact members of Student Life at [email protected]
Leave a Comment
About the Contributor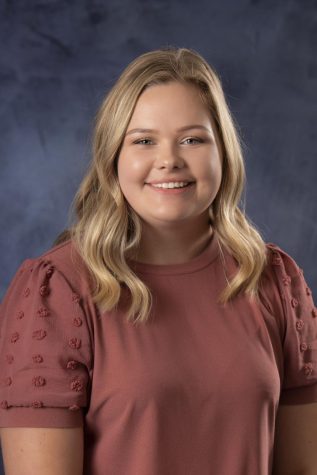 Brianna Hamon, Editor-in-Chief
Brianna Hamon, editor-in-chief of The Trumpet, is a senior at West Liberty University with a major in public relations and a minor in journalism. In the...