WLU student Lauren Anderson wins gold for app design
West Liberty University's (WLU) UI UX program was recognized in a student design competition sponsored by the Innovation Center for Design Excellence (ICDE) after recent graduate, Lauren Anderson, brought home the gold for her senior capstone project.
Anderson, being one of the first students at WLU to win gold in the UI UX category, received this honor for her app design of Planterra. According to Anderson's portfolio, Planterra was created to better serve the plant owner community. The app educates users on how to grow their plants to their fullest potential and reach out to other plant enthusiasts for more knowledge.
In a WLU UI UX design promotional video, Anderson expressed what attracted her to this program: "I'm able to understand and research others' experiences, and then I'm able to look into my own personal experiences to solve problems. I love growing plants and I've always wondered how to better maintain them and grow them bigger, so I wanted to create an app that would help me do that."
With the silver and bronze awards going out to students studying at American University located in Washington D.C., a university with a well-established UI UX design course, winning gold for the hilltop "is a really big deal," explained Moonjung Kang, professor of visual communication design.
Unlike graphic design, UI UX is focused on research that determines the usability and interactivity of programs that create a positive digital experience. UI stands for user interface while UX stands for user experience.
When asked to explain the UI UX design program, Kang stated the following: "People misunderstand UX design as only making mobile app designs or kiosks, but if I'm the experienced UX designer and you are the user, whatever I service to you for your better life or convenient life, it's all based from our experience." Kang went on to explain that Anderson took this approach when crafting Planterra.
The beginning phase of creating a mobile app is targeted toward the experience of its users. Kang's UI UX program starts with choosing a topic you're passionate in as a user. To determine the experience, Kang explained that students must consider things like "what are the good things, what are the bad things and what are the frustrating parts?" From there, students must discover how they will summarize and organize the process of their experience.
"Before making the pretty thing, one to nine steps include thinking and finding out the process. This is a huge difference from how people describe graphic design," concluded Moon.
With customer experience being a top priority among many companies, the need for UX designers is constantly booming. "Every single graphic design course in the world, especially in the United States, is changing. They're trying to put that course (UI UX) in it because it makes money and brings in more students," said Moon.
After discovering the booming industry surrounding user experience in the fall of 2018, Moon took a sabbatical to receive qualifications in teaching UX design and began offering the first official mobile app design and development class to WLU students during the fall semester of 2019.
Since then, UX classes have progressed to a program that includes "Design Thinking" for visual communication design (VCD) students and a UX/UI design class teaching the fundamentals and advanced features.
Previous winners of the competition held by the ICDE include Kelsey Hayden, a graphic design student who won silver in the motion graphics category.
The ICDE competition is held for design students to showcase their talent and connect them with scholarships, internships and professionals within the field. The ICDE competition is not a commercialized event, but rather a resource for design students to share their work with others who share the same passion in graphic and communication design.
In a press release from WLU Media Relations, Maureen Zambita stated that after the 2021 December commencement ceremony, Anderson departed from WLU to work for Madden Media, a destination marketing firm located in Arizona.
To view Anderson's award-winning mobile app design and some of her other design work, visit her portfolio.
If you are interested in UX design, check out previous design work created from WLU alumni Taylor Whited and Samantha Palmieri .
Leave a Comment
About the Contributor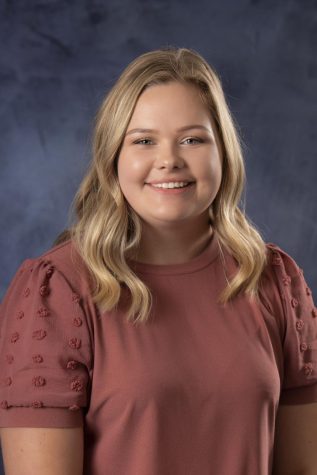 Brianna Hamon, Editor-in-Chief (Fall 2022)
Brianna Hamon, editor-in-chief of The Trumpet, is a senior at West Liberty University with a major in public relations and a minor in journalism. In the...