Women's Basketball Player Profile: Arianna Manzay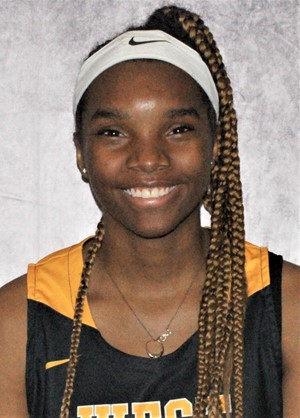 Nearing the conclusion of her second year on the Hilltop, Arriana Manzay has proven to be one of the most dominating forwards in the entire Mountain East Conference. After graduating from Mesquite High School in 2018, Manzay committed to Cisco Junior College and developed her talents over 20 games. After the conclusion of the 2019-20 season, Manzay chose to bet on herself and enter the transfer portal, where she was met by Head Coach, Kyle Cooper, and Associate Head Coach, Cassie Seth of West Liberty's women's basketball team. The rest was history as Manzay traveled from her hometown in Lubbock, Texas, through the mountains, avoiding the broken water pipes, navigating the windy roads of the Hilltop and eventually finding herself in the town of West Liberty, W.Va., where she donned the black and gold for the first time in her career.
Manzay was an immediate impact for the Hilltoppers in her first season, averaging 19.5 minutes while starting 16 of 17 in the abbreviated COVID-19 2020-21 season. As the season progressed, the incredibly athletic 6'3 forward averaged 11.4 points per game while shooting 57% from the floor. She dropped a season high in points (20, 10/14 shooting) against rival Fairmont State, and a season high in rebounds against West Virginia State (11).
Manzay trained intensively during the offseason, focusing on herself and developing her game while being surrounded by a world of uncertainty for basketball due to the COVID-19 pandemic. At the time, nobody on the hilltop knew what was coming next in regards to how the season was going to be played. Players asked themselves the following questions: "Was the season going to be abbreviated once again? Will everybody return to some type of normalcy?" These questions flooded everybody, but not Manzay. Manzay's mindset towards basketball intensified, and her 2021-22 season has shown that extensive improvement.
West Liberty is currently sitting at a record of 15-6, with much credit of this season's success coming from Manzay. Manzay has taken leaps and bounds in terms of her talented play, as she has currently set season and career highs in points (26, against Ohio Dominican), rebounds (16, against West Virginia Wesleyan) and blocks (5, against Malone). Manzay now has a school record to her name for her efforts against Ohio Dominican, shooting a perfect 11-11 from the field. To cap it all off, Manzay was named the MEC Player of the Week on Dec. 20, 2021.
Not only is Manzay talented on the floor, but she's also beloved by anybody who talks to her. Manzay has a lot of love for her teammates, stating that, "last year I was going through a lot, but my teammates were there for me. I trusted them more on and even off the court as the year went on, so this year I am a lot more open with them. I definitely care about them and will be there for them if they need me."
Manzay's talent on the court paired with her class act and genuine compassion prove why the entire Hilltop wants her to succeed so badly. There is still plenty of basketball left to be played this season, and Manzay is excited for the journey ahead. Whatever happens, it is safe to say that Manzay will give it her all, because that is what she has proven to do time in and time out.
View Comments (4)
About the Contributor
Maxwell Fiedorczyk, Sports Writer
Maxwell Fiedorczyk is currently a senior at West Liberty University. A native from Weirton, W.Va., Fiedorczyk serves as the sports writer for The Trumpet....