Geography and planning students visit Wheeling Heritage
The West Liberty University (WLU) geography and planning students took a field trip to Wheeling Heritage on Thursday, Feb. 17, 2022.
The trip was a part of WLU's urban and rural geography course. The professor of the course and director of the field trip is Dr. Robert Kruse, professor of geography in the College of Liberal and Creative Arts. Woody Hughes, Janell Loh, Justin Schrack and Ashliegh Strickland, all geography and planning majors and members of the course, are the students who accompanied Dr. Kruse.
Dr. Kruse and the students met with Betsy Sweeny, director of Wheeling Heritage Programming. "Meeting Betsy Sweeney was great because she understands so much about how to revitalize older, post-industrial cities like Wheeling. Understanding the unique geographical features of Wheeling, both in terms of it being a river town and also a place with a distinctive cultural geography helps to prepare our students for their future careers," said Dr. Kruse.
During the visit, Sweeny discussed the ways in which "developers use historic tax credits to revitalize older, historic buildings and make them productive places in the local community," according to Dr. Kruse. After the visit with Sweeny, Dr. Kruse noted that he led the students on a walking tour through East Wheeling to see some of the older buildings.
Loh, a senior geography and planning major at WLU, stated, "We visited Wheeling Heritage because it is a local organization that is helping to revitalize Wheeling by supporting small businesses, promoting arts and culture in the community, and helping to get funding for historical preservation." She went on to explain that Wheeling Heritage supports small businesses and the arts as well as the preservation of Wheeling's history through restoration of historic buildings to increase Wheeling's economic development.
"She [Betsy] was very nice and helpful when explaining everything she does and what all goes into the project behind the scenes," said Hughes, senior geography and planning major. Hughes noted that he thought one of the main reasons for the field trip was to take what he and others have learned in class and see what it looks like when the concepts are applied in "real life."
Strickland, another geography and planning major, will be graduating this December. "Being a geography major, I always look forward to getting out in the environment, whether that be a built environment or natural, exploring areas first hand is a great way to get a better understanding of changes in spatial patterns and social structures."
In terms of the urban and rural geography course, this field trip relates to what they are currently learning. Loh explained that students in the course have been studying how cities develop, what economic factors cause cities to grow and why cities de-industrialize, which causes them to lose their economic base and population.
"This is related to our program because we spend a lot of time talking about space and place and place making. For this specific class, it was really just eye opening to see what goes into some of the things we read about and see what it takes to get things accomplished," said Hughes. The students, as well as Dr. Kruse, have made it clear that this trip has been very beneficial.
Strickland went on to explain that after the trip, she noticed more abandoned buildings in downtown Wheeling with paper hearts on them that she hadn't noticed before. "I think this is an extremely good way to draw even more attention to these buildings so that more people look and care about what happens to them. Sometimes people get a negative image in their head about an area or building that needs work or looks run down. In reality, these buildings and areas are just as important as they were in the 1800s and have so much potential. Their bones are good, they just need revitalized."
Dr. Kruse said, "One of the great things about the geography and planning major is that we draw students with such diverse interests. Some are interested in the technologies of mapping, others are interested in culture and landscapes. We also have students who focus on community economic development and environmental issues. Whatever their passions may be, our students find that geography provides a set of skills and perspectives needed for understanding the nature of places and the importance of locations here and around the world."
Each semester, Dr. Kruse teaches several introduction to geography courses and upper-level geography courses for geography majors and minors.
If you have further questions regarding the visit to Wheeling Heritage, contact Dr. Kruse at [email protected].
Leave a Comment
About the Contributors
Kenley George, Culture Editor Intern (Spring 2022)
Kenley George is currently a senior at West Liberty University. She is pursuing a degree in public relations and a minor in journalism. George completed...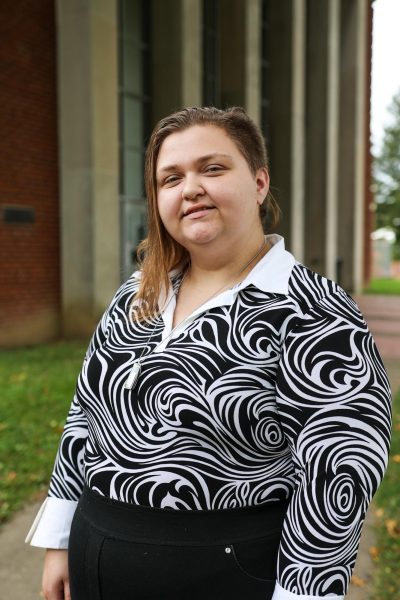 Haley Blakemore, Photo Editor/Social Media Manager
Haley Blakemore is a Senior in English Literature  with a minor in Journalism from Reeader, WV. Blakemore has been on staff for the Trumpet since 2019....