Blackout Poetry in the Student Union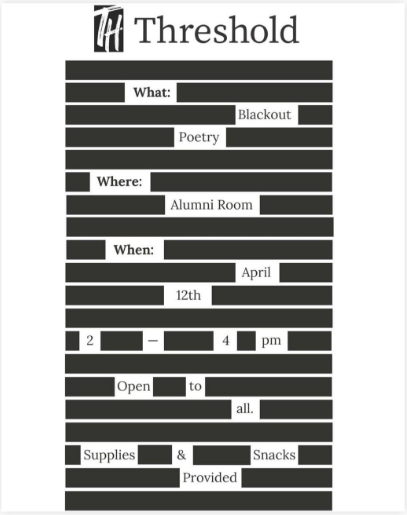 With the Spring semester almost ready to come to a close, it's about time for the yearly release of West Liberty's Threshold Journal. The Threshold Journal is a collection of literature and artwork submitted by West Liberty students. Students who have their submissions selected for the journal will find their work in the physical publication of Threshold.
            April 12, at 2 p.m. until 4 p.m., the staff of Threshold will be holding a blackout poetry event in the Student Union Student Leadership Center, located directly across from Starbucks. Attendees will be given a selection of books and black markers to create blackout poetry from. For those who do not know what blackout poetry is, the process involves taking individual pages from books and using a black marker to remove words. The creator will use the remaining words to construct a poem.
Students who attend will be given a chance to socialize with English majors or those who appreciate literature, while also getting a chance to create something on their own. Threshold staff's blackout poetry is open to anyone who wishes to attend. Refreshments will also be offered at the event.
            The Threshold Journal gives students an opportunity to display their literary and artistic works to the world without going through the trouble of full-fledged publication. The mission statement, as listed from Threshold's documentation on West Liberty's website, states that "[their] goal is for Threshold to give opportunities to young, developing student-artists in our community."
Dr. William Scott Hanna, the faculty advisor of the Threshold Journal, was enthusiastic about the journal's launch when asked about it. "We are in our second year now running the production of the journal through our new Literary Publishing course, which provides the students in the class to work on and experience the entire process of building a literary journal," he stated. "We are already excited for volume three."
            On  April 24, a launch party for this year's Threshold journal will be held in the Paul Elbin Library. This launch party will give attendees a chance to purchase the physical edition of the journal. It will take place in the Alumni Wall of Honor Alcove, which is on the second floor of the library. Those who wish to learn more about the Threshold journal can visit its website.