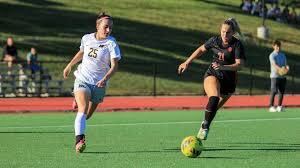 The West Liberty Women's Soccer team took on the West Virginia Wesleyan Bobcats on Sunday Oct. 1. The game took place at the West Family Athletic Complex and kicked off at 3 p.m. West Liberty came into the game with a record of two wins, four losses and two ties. The Bobcats entered the game with a record of one win and seven losses. The Hilltoppers were hoping to avenge last season's 1-0 loss to the Bobcats. The Bobcats were hoping to extend their lead in the all-time series.
125 people were in attendance for this mountain east conference matchup. The first half of the game was a scoreless one, as neither team was able to find the back of the net. The second half was a different story. West Liberty freshman Amelia Compston scored a goal in the 50 minute. Then in the 52 minute, freshman Maya Taggart found freshman Katie Farley at the top of the six-yard box and Farley proceeded to head the ball in for a second goal.
With the Hilltoppers up 2-0, the Bobcats needed a score of their own. 23 seconds after the Hilltoppers scored their second goal, Beth Burchett scored a goal to cut the lead to one. That would be the last score of the game and the West Liberty Hilltoppers would take home the victory by a score of 2-1 bringing the Hilltoppers record to 3-4-2.