WLU student uses graphic design for a good cause
            By Hannah Mason, Assistant Editor
There's no time like the holiday season to find an opportunity to give back to the community.
            The students of this semester's Graphic Design I class, taught by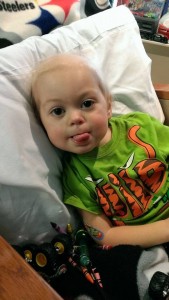 Four-year-old Hines is not completely cancer-free yet, but he is doing better and is home for the holidays.[/caption]
Photo Credit: Rotriga family
            According to Kaluger, she knew Hines's family personally through her job at C.A. House Music in St. Clairsville, where Hines's dad, Kevin Rotriga, is a customer. "In 2013," Kaluger said, "just a couple of days after Christmas, Hines was diagnosed with childhood cancer—he was only three years old." Hines was diagnosed with Stave IV Neuroblastoma.
            Hope for Hines, Kaluger said, began as a Facebook page created by the Rotriga family, so that they could easily post updates and pictures about Hines. People can also make donations through the page, as well as by sending donations to Miklas Meat Market in Wheeling. According to the Facebook page, Hines's Uncle Dave is the store owner of Miklas Meat Market, and his mom, Debbie Rotriga, works there. Kaluger said that several organizations have partnered with Hope for Hines to raise awareness and funds.
            Through Hope for Hines, though, Kaluger said that the Rotrigas also want to "raise awareness for other children going through the same struggle. They give updates on their own son, but they also share all kinds of stories of other kids that they come across in those hospitals." They have also spoken about, Kaluger said, that when Hines is cancer-free, "they want to start some sort of organization for the entire issue of childhood cancer, and just raise money for everybody, and not just themselves."
            Kaluger's project, then, is, as she described it, "a call to action," meant to not only get Hines's name out there but to also encourage donations and inform about the cause. The piece is a folder that Kaluger designed, with a letter telling Hines's story, a car decal that was a special request from Kevin Rotriga, and a folded-up poster inside. The poster has statistics about funding on one side, and opens up to the words "Hope for Hines" on the other.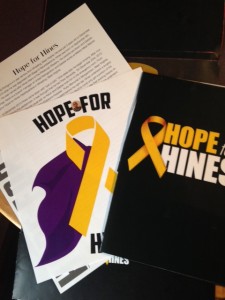 Kaluger intends to give her project to the Rotriga family after the final edits are completed. Davis said that at that point, "They can take this design, which she's giving them for free, and then they can easily print it and fold it and hand it out for people to use for promotion and awareness. I think it's just a really neat story," she added.
            Right now, Hines is doing really well, Kaluger said. "He's been through quite a bit since he's been diagnosed," she said. "He's four now; he turned four just a couple months ago. He's been through all kinds of chemo, all kinds of radiation, surgeries, a kidney removed, way too much for a child his age to go through. Right now, he's doing well, all his tests came back okay, no new growths or anything like that. He's not 'no evidence of the disease' yet, but he's doing a lot better. He's home for the holidays now." In fact, Hines, ever the Batman fan, even rode with his family in the Wheeling Christmas parade on Nov. 20, in a car decorated like the Batmobile.
            According to Kaluger, this Design for Good project was great because it "brought everyone in the class together, and it brought everyone's attention to something that's important to this specific person and here's why." 
            "I think what's important is that students learn how to do work for organizations that may not have very much money," Davis said, "and learning that graphic design is not just about advertising, it's not just about commercialism. I want my students to know you can really make a difference, that you can design things and produce things that have opinions and help people to do whatever they're trying to do. I think it's really just another side to graphic design that isn't talked about a lot. And so I wanted to incorporate that into the class."
            For more information about Hope for Hines, go to www.facebook.com/Hopeforhines.
            As the semester winds down and we go home to celebrate the holidays, let's follow these graphic design students' example and use the skills we've learned at WLU for a good cause.