48 Hour Film Festival returns in Marquee Cinema
Chad Richards, Contributing Writer
Suppose someone asked you what you could do with 48 hours? Many different answers could come to mind: you could write a paper, do research for a class project, procrastinate on homework – or you could make a short film. The last option may seem out of place, but creating a film in a short time is the premise of the Second Annual West Liberty 48-Hour Film Festival, which is set to screen at Marquee Cinemas, Sunday, Sept. 18.
Jared Thompson, festival director and WLU Adjunct Professor, based the idea for the festival off of a similar festival he competed in when he was in college.
"It was a great learning opportunity for me, and I wanted to try to bring that here for the students at West Liberty," Thompson said. He chose the 48-hour time frame because "you could do it over a weekend… that's the majority of free time that I think college students have."
The festival begins in the Media Arts Lounge, where groups of no more than three draw a genre, prop, character, and a line of dialogue that all have to be incorporated into their film. Then, the students have 48 hours to write, shoot, and edit the film to be screened for the public at Marquee Cinemas in the Highlands. Awards are given out for the best use of each of the required elements, with cash prizes for the best films.
The first year saw success, with 12 students in four teams participating and 50 people at the public screening. This year, Thompson hopes to double that number by making some changes to attract more people.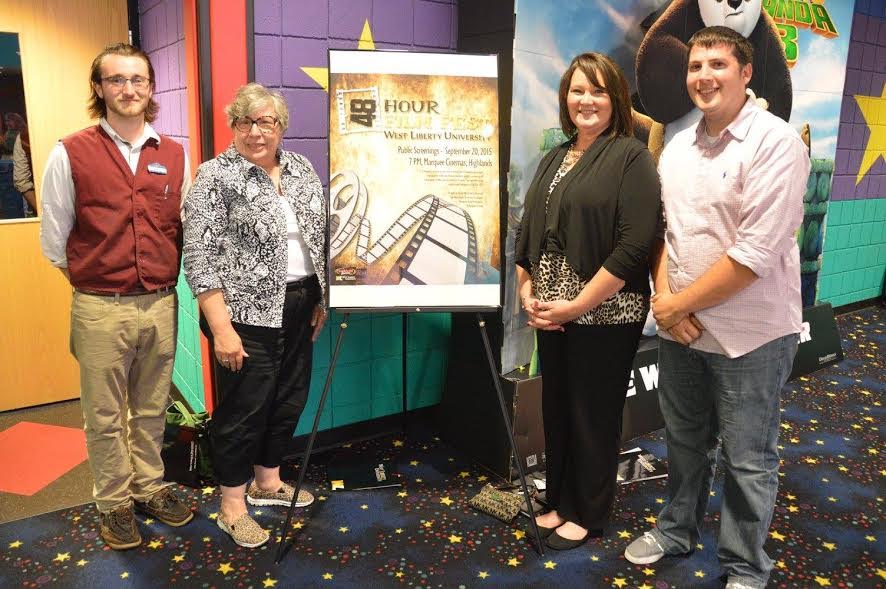 "This year we actually have a website, and we're opening it up to high school students this year, so that should help get a few more people involved with it," Thompson said. He also explained the increased marketing efforts for the festival, including posters, t-shirts and the addition of sponsors to help make the festival happen.
But the main focus of this festival is making sure that the students have a good experience and learn about working together under a deadline to make something great. Sophomore broadcasting major Corey Knollinger participated in the inaugural festival and said that he came away from it learning things both about himself and the filmmaking process.
"I learned what I can do in such a short deadline; I learned my own creative capacity," Knollinger said. "I never knew that I could write a script really fast." He also appreciated the fact that West Liberty, being such a small school, had a film festival, something not many schools this size have.
But of course, being under a tight deadline can cause extreme amounts of stress when things inevitably go wrong.
"I was a minute under what we had to have so I ended up just throwing in a minute of someone walking. It ended up working out, but it was really heart-wrenching and stressful at the time," Knollinger said. But he undoubtedly agrees that the stress of it all still made the whole festival worth it.
The 48 Hour Film Festival kicked off with the draw at 5 p.m. on Sept. 16 in the Media Arts Lounge with registration the day of open from 4:30-5 p.m. Registration was open to all WLU students and high school students in Marshall, Ohio and Brooke counties, but only 12 teams may register.
The final screening took place Sept. 18 at the Marquee Cinemas at 7 p.m., which was open. For more information, visit the festival's website or contact Jared Thompson at [email protected] The festival is presented by The Highlands, Wheelhouse Creative LLC, Marquee Cinemas and West Liberty University.