By Daniel Morgan, Editor 
College Radio Day (CRD) has been a growing tradition at West Liberty University, with this being the third year that WGLZ will observe the nation-wide celebration. This year, a three-day lineup of events, including a live 24-hour marathon hosted by freshman Walker Polivka, will boost excitement for the sixth annual CRD, which is tomorrow,
Nov. 4
. 
The fun kicked off yesterday with a "Monster sampling party," when the radio station's workers handed out free samples of Monster drinks from Coca-Cola. WGLZ will be showcasing a crop of West Liberty musicians on the air throughout the day today, and Polivka's marathon will start at
5 p.m.
tonight, Nov. 3. 
Professor Jeff Pfister, WGLZ faculty advisor, pitched the idea for the marathon in his DMD 204 Radio Production class in September. Polivka volunteered and has been planning ever since.  His show will feature an array of music and topics such as campus events, sports, current events and more. 
"I decided I wanted to make things interesting by switching things up," Polivka said. "I will be allowed to play whatever music I want on the air, rather than just the music we have in the system already. So, I will play a lot of 70's and 80's music from around
8 p.m.
Thursday
until
8 a.m.
Friday
."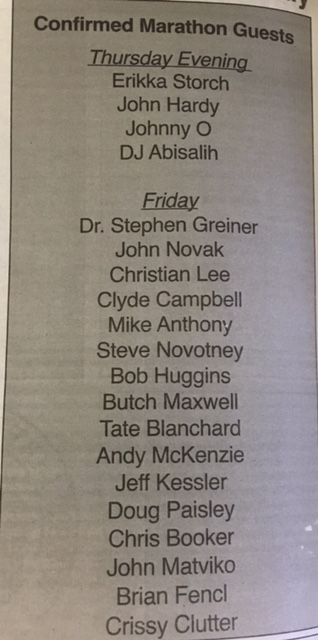 He also has a long list of guests that he has been building since the show's inception. "I started off with looking at notable West Liberty alumni, Polivka said. "Then, I found an old article about when the radio station first opened and I tried to get as many people who were involved with the station when it opened in 1990 to come on for an interview. Then, I expanded to local radio personalities, politicians, former local athletes, and other people involved with colleges in general. We have an eclectic set of interviews set up in studio and over the phone lines, so it'll be interesting to listen to."
Polivka managed to receive hourly sponsors for the program at $50.00 an hour, and the money will benefit the Wheeling Soup Kitchen and the Children's Hospital of Pittsburgh. 90 donors have also provided many prizes to be given out throughout the marathon and the CRD events. 
"I am feeling great heading into the show," Polvika said. "This is going to be a lot of fun. Tons of interviews to conduct and tons of prizes to give away. It is going to be an exhausting day, but I am looking forward to it. Make sure to come out, have some fun, and make sure you get a chance to win some fabulous prizes." 
"I'm so pleased that Walker is taking every advantage of what college radio has to offer," Pfister said. "This experience will certainly provide valuable resume material regardless of the career path that he chooses. Generally people think of radio as only a training ground for someone wanting to seek a career in radio but Google what employers are looking for and you will find that college radio provides valuable experiences in oral communication, problem solving, and leadership, and you can do that while have fun!"   
The 24-hour live marathon will start at
5 p.m.
tonight and end at
5 p.m.
tomorrow on WGLZ. For more information regarding CRD and WGLZ involvement, contact
[email protected]
.