Acrobatics and Tumbling join WLU's sports lineup 
By Cody Shook, Sports Editor 
On Oct. 27, West Liberty University President Dr. Stephen Greiner announced that the university is adding Acrobatics and Tumbling as the schools 17th intercollegiate sport.
The nationwide search for a head coach has begun as the teams plan to begin their first season in the spring of 2018. 
"We're very pleased to add Acrobatics and Tumbling to our varsity sports lineup," Greiner said. "This will open the door of opportunity for many female high school student-athletes to not only continue pursuing their passion at the highest level as a lady Hilltopper, but to use that passion to fuel their pursuit of a college degree."
Greiner started the press conference by talking about the growth and expansion that West Liberty has been going through this year, such as adding three new academic programs. He looks forward to fielding a team and recruiting new athletes to the campus. 
As more than eight million young women are competing in the similar skill sets of gymnastics or cheerleading, Acrobatics and Tumbling has blossomed into one of the nation's fastest growing intercollegiate sports. West Liberty is the 16th school to add Acrobatics and Tumbling as a varsity sport in the six years since the National Collegiate Acrobatics and Tumbling Association (NCATA) was established to serve as the sport's governing body. 
West Liberty will become the fourth school in the Mountain East Conference (MEC) that offers this intercollegiate sport. They join other schools such as two-time defending national champion Baylor, Quinnipiac and Oregon on the list of schools that offer this sport. 
The meets will take place in the ASRC on campus and they will last anywhere from 90-120 minutes and this high intensity sport will bring a lot of excitement to the arena. With six events taking place on a mat at center court as many as 24 student-athletes in action at the same time, depending on the event. The events will be judged based on the execution of their skills and team scores will be scores will be calculated for each event and added together to determine the winner. 
Co-interim athletic director Lynn Ullom was one of the powers behind getting the sport to campus, and after six to seven months of checking the feasibility and researching, he said, "This is the perfect first step in that continued growth, we're reaching a demographic that is out there, that we have cheerleaders, gymnasts who are looking to take their passion, take their pursuits to another level."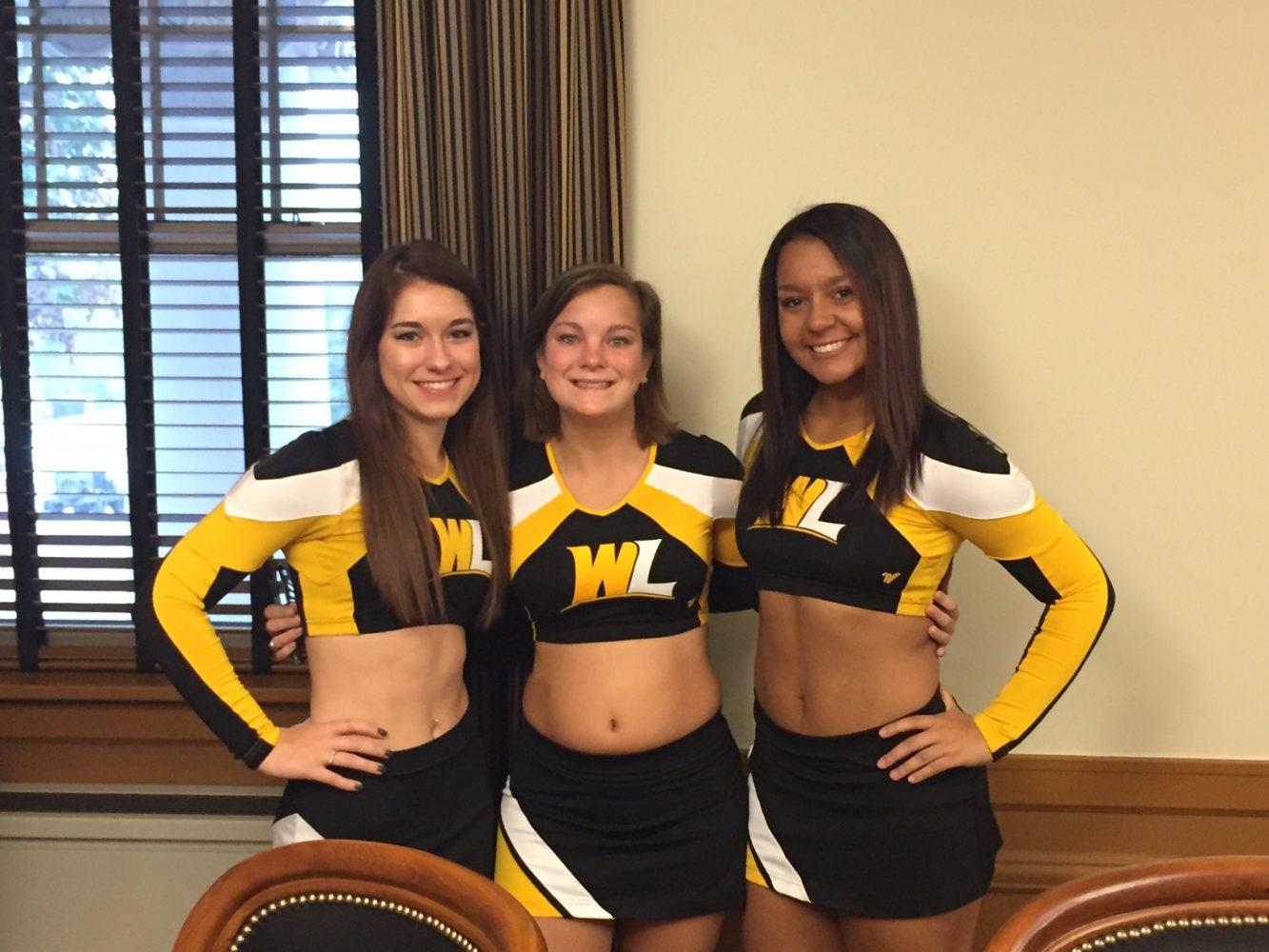 When talking to the head coach of Baylors program, Felecia Mulkey told Ullom, "It's such an exciting time because there are so many young student-athletes out there that were in cheerleading or in gymnastics and there's just not a lot of opportunities at the next level to compete." Mulkey feels that there will be a number of people that will flock to this sport. Ullom is very confident that Acrobatics and Tumbling will become an official NCAA sport in a few years.
 Current West Liberty cheerleader, Kayce Neely spoke at the press conference, and she was very passionate about adding Acrobatics and Tumbling to the schools athletics. 
"Adding this will not only bring more people to West liberty, but give us more respect in the school as for young cheerleaders who are looking for something to do when they get older," Neely said. She is interested in joining the team even though it will be her final year at the school. "Acrobatics and Tumbling is something I'm really passionate (about) and I honestly can't wait for it to come here."
When the head coach is hired, he or she will immediately start recruiting and try to bring a full roster into the 2017-2018 season. Ullom mentioned that Acrobatics and Tumbling demonstration tapes will be added on to West Liberty's athletic website in the near future to show what kinds of things the team will be competing in. 
"This will be a scholarship sport, like one of our regular sports; there will be a limited amount of scholarships available," Greiner said. "Any student that is interested in being a part of the team should contact our athletic department, in particular our athletic directors, Lynn Ullom or Roger Waialae so we can start recruiting them."
Visit Hilltoppersports.com for more information about the addition of Acrobatics and Tumbling at West Liberty University. 
Photos by Daniel Morgan