WLU Alumnus reflects on Rio 2016 Summer Olympics experience
By Jalyn Bolyard, Online Editor
Alumnus Dr. Aaron Joel "AJ" Monseau had an incredible opportunity and adventure over the summer. Monseau was a team physician for USA Wrestling at the Rio Olympics.
As team physician, Monseau is available for whenever a medical issue arises. This can range from suturing wounds, treating with medicine, or coordinating care with local hospitals or while in the Olympics, coordinating with the US Olympic Committee Medical Staff.
Monseau has some deep ties to West Liberty University. The wrestling room is named after his father, Dr. Vince Monseau. It's a family tradition – his mom Kay, brother Vinnie, and sister Anissa also graduated from WLU.
"I grew up in town and was on the campus more days than not during my childhood," Monseau said.  "I watched my dad coach a group of young men every year until I was old enough to be on those teams.  After watching my brother compete at West Liberty, it was a dream come true to put on the West Liberty singlet just like so many of my heroes had done and compete for my dad."
While he competed for WLU, Monseau was on the Academic All-American team four times and received All-American honors in the NCAA Division II 2003 national championships. Wrestling was much more than a sport to Monseau.
"Wrestling as a sport can be very tough on young people when you have to survive the practices, discipline yourself, then be out there all alone against your opponent," Monseau said, "It teaches invaluable lessons about drive, perseverance, responsibility and, many times, humility.  Obviously, I'm a little biased, but I think wrestling does this better than any other sport."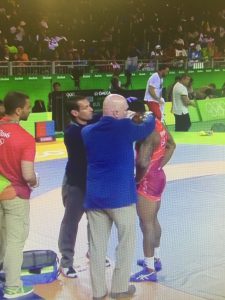 Being a team physician for USA Wrestling was always an aspiration of Monseau's since he started in the medical field.
"While I was still in my Emergency Medicine residency, I started volunteering to be on the medical staff at wrestling tournaments around the country and applied to travel as a team physician with USA Wrestling," Monseau said.
During his one year fellowship in Primary Care Sports Medicine, another doctor had to pull out of a USA Wrestling trip. Monseau and his brother, who is also an Emergency Physician, were both supposed to go but eventually only one of them were allowed.
 "[My brother] graciously allowed me to go since he knew I had been trying to get my foot in the door with USA Wrestling," Monseau said, "After that trip, I went on one or two trips per year."
Monseau traveled with the USA Wrestling team to Russia, United Kingdom, Thailand, and Panama before he was selected to go to the 2014 World Championships in Uzbekistan and later on, the 2015 World Championships in Las Vegas.  After those and leading up to the Olympics, he also traveled to Istanbul, Turkey, and Germany with the team.
In preparation for the Olympics, the athletes and staff did their training at a US only training facility named Lonier. This included athletes from all kinds of sports in the Olympics.
"It was really cool to hang out every day with not only the wrestlers but also the other athletes," Monseau said.
Over all, Monseau was with the team in Rio for three weeks. He had his share of moments, on and off the Olympic floor.
"I didn't get to venture out much in Rio," Monseau said, "because I was so busy with the training sessions and then the competition days.  The Village had a lot of issues, but the USOC sent a crew to Rio whose only job was to fix whatever problems we had in our building.  Living in the Village for 3 weeks was very cool. Every night, people from all over the world would gather in the common area to watch whatever sport was on TV."
Monseau was on the floor when Ohio State University's Kyle Snyder became the youngest American to win an Olympic Gold Medal. Before the Olympics, Monseau  also was matside at the 2015 World Championship, when Snyder was the youngest American to win a World Title.
"The great thing about Kyle is that he is just as good of a person off the mat as he is a wrestler on the mat," Monseau said.  "He has a tireless work ethic that makes everyone a fan of his.  He wrestles both aggressively and intelligently and will be one of our stars for many years to come."
Overall, US Wrestling won two golds and a bronze at the Olympics. J'den Cox, a wrestler still at University of Missouri, won the bronze and could have "very easily" been in the gold medal match, Monseau said.
"Helen Maroulis had the most memorable moment for me," Monseau said, "when she won the gold medal by beating a Japanese wrestler who was going for her fourth Olympic gold medal."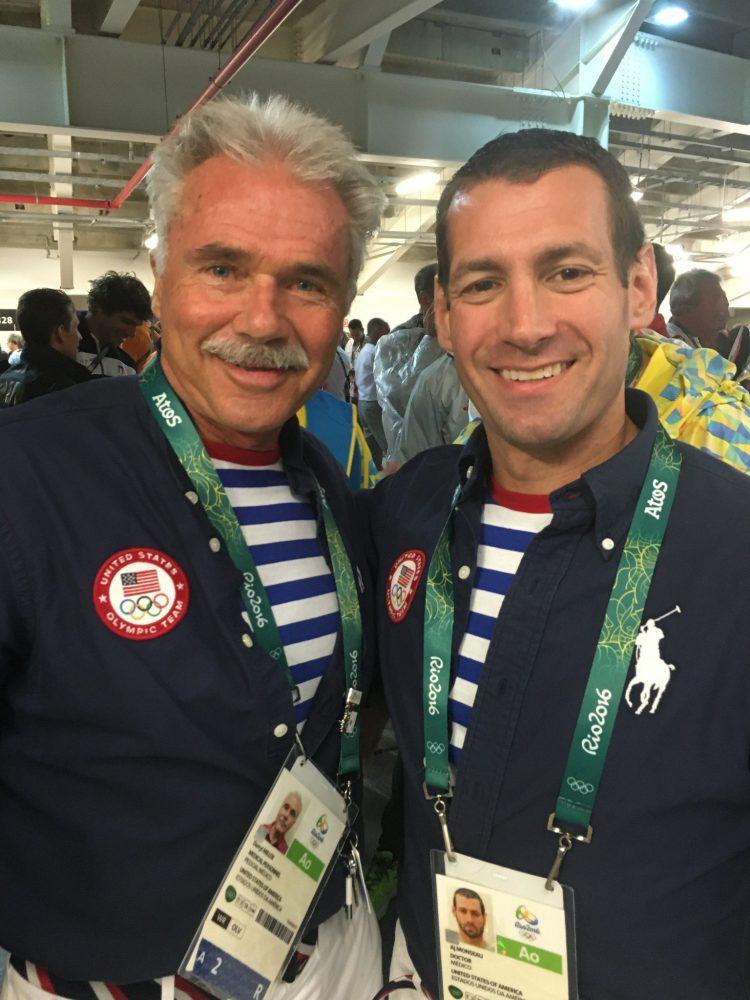 Other than the medals, however, his favorite moment was walking in the Closing Ceremony.        
Monseau is hopeful for the future and Tokyo 2020, stating he would definitely go again if given the opportunity. However, the hardest thing he said about Rio was being away from his family. He has a daughter Bianca, 6, and a son Mason, 4. 
For more information about Team USA Wrestling, check out their website https://teamusa.org/USA-Wrestling.
Photos provided by: Dr. Aaron Joel Monseau