Last-minute crafting gifts for Christmas
By Megan Jones, Advertising Manager
With Christmas only a couple days away, one can assume the holiday shoppers who procrastinated are freaking out.
Have no fear! If you put off shopping for so long because of the price tags and everything is out of stock, or it's too late to order online, here are four last minute crafting Christmas gifts that won't make your bank account frown.
 This gift is fast and personal: design your own hanging wall mount. Walmart currently has a deal going on until Christmas where you can get an 8×11 wooden wall mount with your own design printed on it for just $12!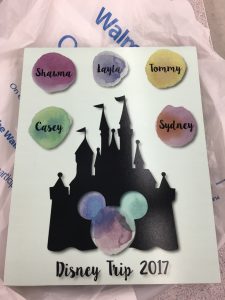 You can put a picture of you and your bestie, a design that your Mom will love, or a poem for Grandma and then you've got the perfect gift! The best thing about this gift is that it's ready within an hour. If a wall mount isn't your style, check out Walmart's website for more printing options. 
The next idea is fun to make and give! I've personally made two crate storage boxes, and they make awesome gifts! You can get a wooden crate at Walmart or Pat Catan's for around $10.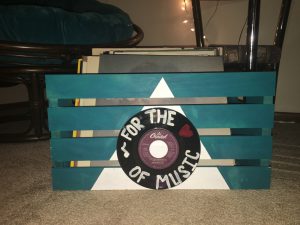 The crate looks boring at first, but after adding your own designs with paint and glue, it comes to life. Everyone can use more storage! Plus, you can fill the crate with candies and Christmas goodies. 
 If you know any wine lovers, this is the perfect cheap gift for them! A Wine Bottle Picture Frame is a unique craft to give during the holidays.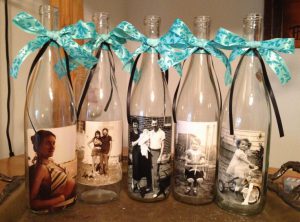 Get an empty wine bottle, fill it with some gems, then add a picture! It's adorable, easy and personalized for a friend.
We all have a family member or friend who loves to pamper their skin, sugar scrub is cheap to make, and your gift will be the holiday hit!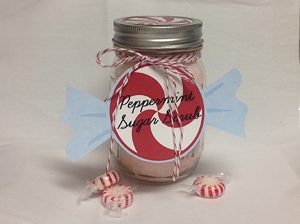 First, you'll need to buy a jar to put you scrub in when finished, make sure its cute! Then you'll need to purchase and oil of your choice, sugar, and an oil extract for the scent. Mix all of the ingredients together, and you'll get a moisturizing scrub. Package it up in you jar, and it's ready to be given!
Handmade gifts give a unique, personal, and exciting twist to the holiday season. If you've been looking high and low for the perfect gift, look no further! The ideas above are sure to make whoever opens them smile brighter than the star on top of the tree.
Photo credit: Megan Jones, The Gunny Shack, and Pinterest