'Fences' welcomes audience right through the gate
By Daniel Morgan, Editor 
"Fences," the new film based on August Wilson's award-winning play, stars Denzel Washington (who also directs) as Troy Maxson, a black garbage collector dealing with family and personal conflicts in the 1950s. 
Troy was a considerable baseball player in the Negro Leagues, but he hit his prime too soon as black men were still unable to play in the major league. His son, Cory (Jovan Adepo), has the chance to land a college football scholarship, but Troy disapproves because of his own failed dreams. His constant bitterness towards his past is evident throughout the film as he uses baseball terms in everyday conversation, especially when he chastises his son.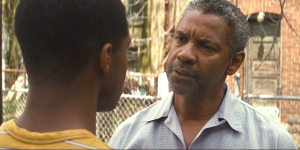 Viola Davis also stars as Troy's wife of 18 years, Rose. She insists that Troy build a fence around their backyard, where Troy recounts his glory days with a bottle of gin. Troy's stories are full of hyperbole and at times nonsense, but he believes every word. 
Although it starts out as a "day in the life" type of deal, the plot thickens flawlessly. The audience gets wrapped up so quickly in the central conflicts of dreams and failure along with the addition of more captivating characters: Troy's mentally-disabled war veteran brother, Gabe (Mykelti Williamson); Troy's older son, Lyons (Russell Hornsby); and Troy's best friend and coworker, Bono (Stephen Henderson).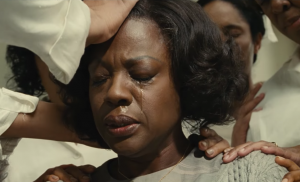 Each performance is stellar, which is partially because of the perfectly static direction. There's not too much variation between scenes and the setting; most of the film unfolds in the backyard. This really gives the ensemble the chance to show their acting chops, especially with Davis' captivating turn in the climax. Nobody cries on screen like her, and the simple camera angles make it seem like you're right behind those fences – it's that enthralling. 
All eyes are on the actors and their thick doses of dialogue, and it all blends together perfectly. To say "Fences" deserves praise is an understatement. 
I was constantly reminded of Arthur Miller's "Death of a Salesman." The similarities between Willy Loman and Troy Maxson are uncanny, especially their at times twisted perceptions of reality. 
"Some people build fences to keep people out, and other people build fences to keep people in." Discovering what those fences separate is the best part. 
Photo credit: Collider.com, Esquire, Vanity Fair