'The Toy Show' opens in Nutting Gallery
By Daniel Morgan, Editor
West Liberty University art faculty members presented some of their playful work at the Nutting Gallery's annual faculty exhibition this evening.
"The Toy Show" features work from professors Sarah Davis, Brian Fencl, James Haizlett, Martyna Matusiak, Moon Jung Kang, Nancy Tirone and Robert Villamagna, the gallery's director. The faculty voted on the year's theme.
"This year it was toys," Villamagna said. "Over the years, it's been things like windows, time, meat," among others.
"I buy a lot of junk for my constructions, and in some way, shape or form, I wanted to use an old toy, or a part of an old toy," Villamagna said. "Not necessarily to make a new toy, but to make another piece that incorporated a toy. It kind of becomes a vehicle for your head."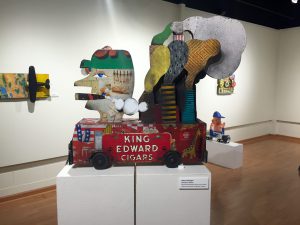 "It was a lot of fun, and I enjoyed making them," Villamagna said. "I love this kind of stuff. When we have an exhibition like this, it pushes me. It gets you excited, and we look forward to it."
The gallery included pieces from recycled materials, various sketches and designs, a projection display and photographs, among other miscellaneous items.
Tirone also included representations of some of her daughter's toys.
"Sunshine, Ernie and Bert were my daughter's stuffed animals, and I've had them on the shelf for forty years," Tirone said. "Sunshine was always a very special bunny for her. I thought of other things to use, but I just kept coming back to them and wanted to use them. Then, the rubber duckies, when I saw them in the store, I said, 'I have to have them.' Of course, Ernie's 'Rubber Duckie,' that's his song."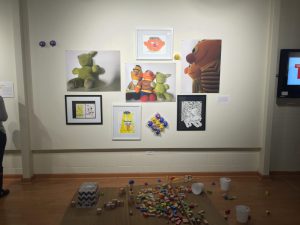 The exhibition also features some interactive displays, including a black-and-white free-for-all painting set up by Matusiak and an open suggestions display of things to make out of a cardboard box set up by Davis. Tirone also included a mat with various blocks underneath her display.
"With the theme of toys, we really needed to have something to play with," Tirone said. "So many people are afraid of touching any gallery pieces, which they have learned over the years. But I wanted to include these blocks so that kids as well as adults can create and build, whether tonight or whenever there's nobody in the gallery."
The Nutting Gallery is open from 8:30 a.m. to 2:30 p.m. on weekdays in the Fine Arts Building, and "The Toy Show" will be up until Feb. 9.
Photo credit: Daniel Morgan