Hilltoppers face Golden Eagles tonight in Charleston
By Trent Nicholson, Contributing Writer and Josh Smith, Contributing Writer
West Liberty University's men's and women's basketball teams face off against the University of Charleston Golden Eagles tonight in Charleston, W.Va. The women play at 5:30 p.m. and the men play at 7:30 p.m.
Over the course of winter break, the Lady Toppers went 3-5. They currently sit at 6-12 on the season, but they will look to get back on track tonight at Charleston.
With school back in session, West Liberty hosted Concord on Martin Luther King Day. Marissa Brown poured in 30 points, and the Hilltoppers held off a late Concord surge for an 88-76 victory. Johnie Olkosky had five three-pointers and backed Brown with 17 points, seven rebounds, four assists and three steals. Kelly Meade added ten points off the bench, and McKenna Shives finished with nine points and six assists.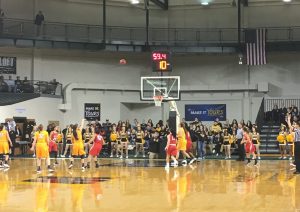 On Jan. 19, West Liberty took on rival Wheeling Jesuit. The Hilltoppers built a double-digit halftime lead and never trailed in the second half shocking No. 19 ranked Wheeling Jesuit at the ASRC. 
Shives hit seven three-pointers and several clutch two-pointers down the stretch to finish with 28 points. Brown had 14 points and six rebounds despite battling foul trouble for most of the night while Emily Bucon added 11 points and six assists while going seven-for-seven from the charity stripe. Olkosky rounded out the double-figure scorers with ten points and made a run at a triple-double with eight assists and seven rebounds while playing all 40 minutes.
On Saturday, Jan. 21, Notre Dame used a late 11-0 run to come from behind for a 75-65 victory against West Liberty. Beader hit six three-pointers and led West Liberty with 22 points while Shives added 16 points, six assists and five rebounds. Grace Fodor had a strong game off the bench with a career-high 11 points to go along with five rebounds and a pair of steals.
After a successful slew of games over Christmas Break, the Running Hilltoppers (17-1, 11-1 MEC) are back in full force for the spring semester. For the second game in a row, Coach Jim Crutchfield and his Hilltoppers will be hitting the road.
The Toppers faced up against the Golden Eagles in early January. The final score read 94-62 in favor of the Toppers. The Hilltoppers hope to further their ten-game win streak tonight in Charleston.
Last season, the Toppers swept the Golden Eagles, winning both games by a combined 30 points. The Toppers have had recent success over the Golden Eagles in other past seasons as well, winning eight of the last 10 games in the past five years. They hope their recent success against the University of Charleston will carry them to another victory. 
Before the spring semester began on Jan. 17, the Hilltoppers concluded a sweep of victories over the winter break. The Toppers won all seven games they played, including huge MEC match-ups at Glenville State College and West Virginia State University. They also picked up two huge wins last week against Notre Dame College and local rival Wheeling Jesuit.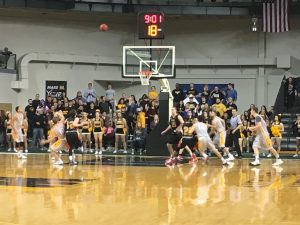 The Toppers' offense continues to put up big numbers quite impressively. As a team, they are shooting a whopping 50 percent from the field, 37 percent from the three and 74 percent from the charity strike. Add that altogether, and the Toppers are averaging a quiet 99 points a game, just under the century mark. 
Balanced scoring has always been a key for Jim Crutchfield's Toppers, but a select few stand out from the rest. 
Junior graduate transfer Dan Monteroso is stuffing the stat sheet in all areas on the court. He is averaging 18 points and six rebounds per game while shooting a remarkable 64 percent from the field, 44 percent from the three, and 84 percent from the free-throw line; remind you that this is Monteroso's first year of basketball since high school, as he is a graduate transfer from the Purdue University football team.  
Senior Devin Hoehn is also putting up huge numbers for the Hilltoppers. In his final season on the team, Hoehn is averaging 16 points, four rebounds and three assists, while shooting over 42 percent from the field and 85 percent from the free-throw line. The other senior, Zac Grossenbacher, is nearly averaging a double-double with 12 points and nine rebounds a game. Both Parkersburg, W.Va. natives, Hoehn and Grossenbacher are putting together a solid final season on the Hilltop. 
Sophomore standout and pre-season All-American David Dennis continues to impress as he fights to be considered the best point guard in the Mountain East Conference. Dennis is averaging 13 points, six assists and five rebounds a game. 
Sophomore transfer from Australia, James Griffin, has started a few of the last games after racking up solid numbers in his time played. Griffin is averaging 10 points and four rebounds a game while shooting 53 percent from the field. Watch for these standout sophomores to finish the season strong.