By Emily Salvatori, Contributing Writer
West Lib Idol will be returning to the Hilltop every Wednesday in February at 7 p.m. in the College Union ballroom. West Liberty Idol is, as its name suggests, a singing competition modeled after American Idol.
This will be the fifth year this popular event will be on campus. West Lib Idol was started in 2012, and the event has been held every year since.
Any current student at West Liberty University who wants to show off their vocal talent can participate in West Lib Idol. Residents, commuters, full-time, and part-time students are all encouraged to participate. Even if you do not want to participate, you can always show up to watch and cheer on fellow Hilltoppers.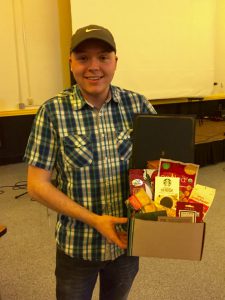 Last year's winner, AJ Holden, said, "It's always fun to see everyone come out and be so supportive of the people who participate. It is one of the most popular events that the campus puts on. Every year I am amazed of the talent that this campus possesses. It's a great way to give people a platform to preform who may not have one. I know that I had a lot of fun participating and watching it in previous years."
A possible change in the event may include a different voting system.
"We want to ensure the students who are performing as well the student audience that the votes are legitimate," said Luke Tacosik, Area Coordinator. "The last thing we want to happen is to allow West Lib Idol become an event solely based on popularity rather talent."
Other possible changes may include a better sound system, more crowd involvement, and possibly getting judges who have become campus favorites.
There is a lot of effort that goes into making this event a success. Resident assistants and hall directors in Beta, Curtis, and Krise help organize and put on the event.
"Every RA is assigned with various tasks such as setting up and tearing down the seating in the ball room, sound check, asking local businesses and organizations for donations, and tallying up votes every night," Tacosik said.
West Lib Idol should be a very exciting and successful event. If you do not want to participate and you cannot make it to the event, the Trumpet will be live-streaming the event on social media.  
More information about the event such as signups and prizes will be posted on the West Liberty Activities Instagram page as it becomes available.
Photos provided by Daniel Morgan and Luke Tacosik.