By Cody Shook, Sports Editor
The West Liberty men's basketball team is back in action
tonight
against Concord and then again
on Saturday
against UVa-Wise. The Hilltoppers are currently on a 14-game winning streak with their last loss coming back in December against Fairmont State. 
Tonight
at
7:30 p.m.
, the men's team will tip-off against the
Concord Mountain Lions
in Athens, W.Va. in a Mountain East Conference matchup. Earlier in the season when these two teams faced off, the Hilltoppers came away with an easy 125-73 victory, but there is definitely some bad blood between these teams.  In their four games last season, each team won two of them.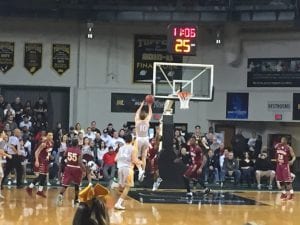 During the regular season last year, each team won when they played at home. In the MEC tournament, Concord got the 92-90 victory in double overtime, eliminating West Liberty from the conference tournament. However, the Hilltoppers got their revenge the very next week in the NCAA tournament by dominating the entire game and winning by a score of 90-69. 
Concord enters the game at the bottom of the conference standings with a record 7-15 overall and 3-13 in conference games. West Liberty will enter the game with a 21-1 record, 15-1 in conference games. 
This is the 67th meeting between the two schools. West Liberty has won 14 of the last 16 encounters to take a 36-30 lead in the series. 
On Saturday
, they will be back in action against the
University of Virginia's College at Wise
with a
4 p.m.
scheduled start time. UVa-Wise comes into the game right above Concord in the conference standings with a 6-16 overall record and a 4-12 record in conference games.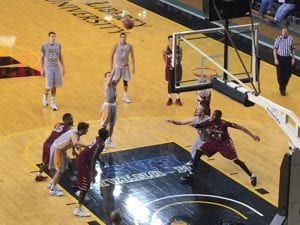 This is only the eighth meeting between these two schools, and West Liberty has won the first seven games, scoring over 100 points in five of those seven games. When they faced off earlier this season, West Liberty came away with the 98-71 victory. 
This past weekend, the Toppers
got their revenge against
the Fighting Falcons of Fairmont by handing them their first loss of the season by a score of 88-81. West Liberty has won 94 of its last 96 home conference games, dating back to the 2007-08 season. 
Zac Grossenbacher
needs just 28 points to become the 48th member of the Hilltoppers' 1,000-Point Club, and Devin Hoehn has moved up to No. 13 on WLU's all-time scoring list with 1,715 points. Joe Blaha, a 1958 grad, is No. 12 at 1,734. West Liberty has made a 3-point field goal in 601 consecutive games, dating back to an 0-for-7 night against UMass-Lowell on Nov. 14, 1997.
For more information about this year's Hilltopper team, log onto
hilltoppersports.com
for stats, schedules, pictures and game notes.
Photo credit: Daniel Morgan