West Lib Chapel houses array of resources and activities 
By Emily Salvatori, Contributing Writer
The Interfaith Chapel on West Liberty's campus may seem like an ordinary chapel, but inside there is more than meets the eye. 
The Fusion Campus Ministry sponsors a free lunch every
Wednesday
from
11 a.m. to 12:30 p.m.
in the social room of the Chapel. They start cooking around
8:30 a.m.
every
Wednesday
morning to provide a free and home-cooked lunch that is open for anyone to enjoy.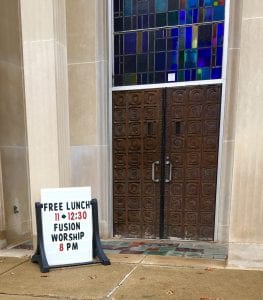 Daniel Loh, a student at West Liberty University, said, "I come to the Chapel for free lunch every
Wednesday
because the food is delicious, and the people are very friendly and welcoming."
Fusion Campus Ministry meets every
Wednesday
night at 8 in the Chapel. They have worships, bible studies, fellowships, and service projects. 
There is also worship every
Sunday
at
6:30 p.m.
in the Chapel.
On the first
Wednesday
of every month, the Fusion Campus Ministry does community service by helping the Hope UMC Food Pantry. The group meets in the Chapel at
3:30 p.m.
and returns by
6:30 p.m.
If you are interested and want to RSVP or if you would like more information, contact Pastor Deb Dague at
[email protected]
. 
The Kappa Phi office is also in the Chapel. Kappa Phi is a Christian women's organization on West Liberty's campus.
The Upper Room is a bible study group that meets
Monday
nights at 7 upstairs in the Chapel. The group has open and informal discussions led by Mike Rice. The group also participates in service projects to show appreciation for the Sodexo and custodial staff on campus.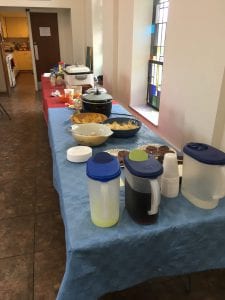 The Messengers is another group that meets on Thursdays at
7 p.m.
in the upper room of the Chapel. They also take part in service projects, bible studies, and provide emotional and social support for fellow members. 
Noah Woods, secretary of the Messengers, said, "We focus on serving the community to hopefully spread the message of the gospel, and we welcome anyone who even feels like stopping by."
The
St. Thomas Aquinas Center
across from the main entrance of West Liberty houses the Catholic Campus Ministry. Catholic Mass is held every
Sunday
in the Aquinas Center at
8 p.m.
open to anyone who would like to go. During finals week, the Aquinas Center is usually open 24/7 to students who need a quiet place to study, a snack, or coffee. For more information, contact Shirley Carter at
[email protected]
. 
The Chapel
is also utilized by other groups such as Greek Life and university choirs. The Chapel serves many purposes on West Liberty University's campus. Students should check out all that the Chapel has to offer.
For more information on West Liberty's Chapel activities, contact Dague at
[email protected]
.
Photo credit: Emily Salvatori