Complied by Jalyn Bolyard, Online Editor
Q: How did you feel when you were announced as the 36th President of WLU?
A: I was ecstatic. It was such a joy and quite an honor to be selected as President of West Liberty University. I never imagined it would happen but that's how it turned out; I was really thrilled.
Q: How did you prepare to come to the Hilltop?
A: Before I decided to be a candidate, I actually studied the University through the website. I looked at all the academic programs and offerings, student services and athletics, and just about everything on the website. I studied the University to see if this was a place where I really could make a difference and to be part of. I was so pleased with everything I saw. I was very impressed– it's not the same West Liberty that I remember from when I was in high school. [Everything] impressed me so much, I decided to apply.
Q: How has it been different than you expected?
A: I don't know that it's different than what I expected. What I saw [during my interviews] were friendly people; everyone was so courteous and kind and the campus was beautiful from when I visited the campus. The interviews with the faculty, students and staff were amazing and just amazing opportunities to interact and I just felt really good. [I] still do.
Q: What's been your favorite memory thus far?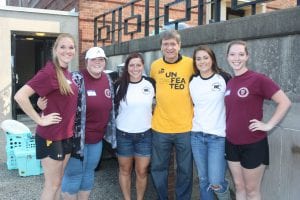 A: My favorite moment is every day when I get to interact with a student. There's no question that is my favorite moment of every day. I attend a lot of meetings; I go to a lot of meetings in town and here on campus, board meetings and so on. Nothing compares to the opportunity to be able to interact with our students.
Q: What are you most looking forward to for your 2nd year?
A: We want to be able to focus on recruitment and retention. I think that's critically important. Also, maintaining a very solid budget and a balanced budget. But in terms of recruitment and retention, I think that's important for the future of the University to be able to recruit the high-quality students that we continually recruit but to also to be able to retain them. Be able to provide opportunities, inside and outside of the classroom for students to participate in.
Q: What do you think can be improved at WLU?
A: One of the things that we're working on right now is development of new graduate programs. I think that's one of the areas of growth, so we're looking at and we already have approved a new master's program of biology. We will be looking at … two more graduate programs for approval, a master's in dental hygiene and a master's in clinical psychology. Then, we will be looking forward to add more programs in the future, and we're still exploring what those would be. Other things that I think we could add I believe it's time to add some new housing, new housing options; an apartment complex or something along those lines. [Some] modern student housing to compliment what we have. We are going to be adding a couple of sports teams – we've already added the Acrobatics & Tumbling.  We're looking at adding a men's soccer club team for the fall. This wouldn't be an MEC conference team; it would be a club team with the intent of starting a soccer program for 2018.
Q: If you want to accomplish one thing this year, what would it be?
A: A greater pay raise for employees.
Q: How was the experience with the 90 days challenge?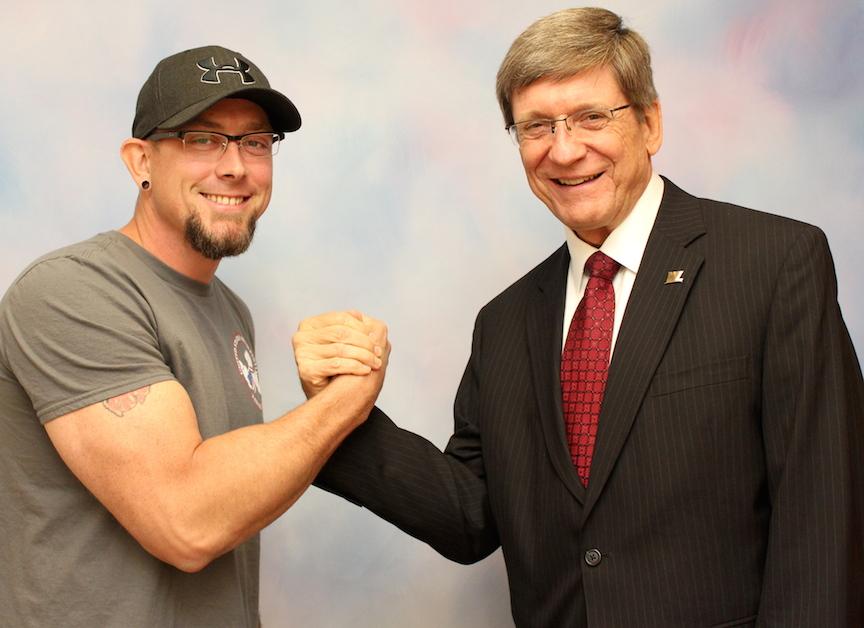 A: The 90 days challenge – the community fitness challenge – was very interesting. When I was asked to participate in this fitness program, I had been working out a little bit on my own so I figured I could do things like the elliptical and treadmill, maybe some jogging. I didn't know until I showed up on the first day that it was a cross-fit program. … But as it turned out, I successfully completed the program. I've been able to [keep] my weight down; I lost 20 pounds in the process. But now I can do more push-ups than I ever could, even when I was in high school.
Q: What are some of your favorite hobbies?
A: I really enjoy traveling when I get the opportunity. I haven't had an opportunity yet this year to do some traveling. Going overseas, spending time in other countries, learning other cultures and interacting with people around the world – I enjoy that. I [also] enjoy athletics and the arts, whenever I can attend performances of both, I will.
Q: If you could travel to anywhere in the world, where would it be?
A: There are places that I would like to go that I have not been – Australia, New Zealand, China, Russia are on the list. There are a number of places I have not gone. I've been in Europe, Africa, and Central America.