'Hope and Gravity' coming soon to Kelly Theatre
By Greg Calinger, Contributing Writer and Daniel Morgan, Editor
Many theater-fans of West Liberty University are excited for the upcoming play "Hope and Gravity" to hit Kelly Theatre as the Hilltop Players' first show of the season. 
The play will open on
Feb. 16 at 7:30 p.m.
, with continuing performances on
Feb. 17
, 23, 24 and 25 at
7:30 p.m.
and
Feb. 26 at 3:00 p.m.
Tickets can be purchased at the door or online in advance at
wluhope.brownpapertickets.com
.
WLU adjunct theatre professor Maggie Balsley directs Michael Hollinger's "Hope and Gravity," a comedy that takes place in a crashed elevator. The nine people aboard soon realize how they are somehow connected to one another.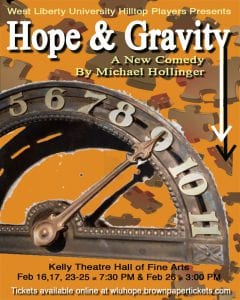 The cast includes WLU students Alex Burdick (Barb), Amanda Mandirola (Puzzle One), Anthony Hood (Marty), Carly Balog (Puzzle Two), Chris Rees (Peter), Destiny Walsh (Nan), Grant Van Camp (Steve), Ingrid Young (Tanya), Jed Shook (Douglas), Sarah Lemley (Jill), Sydney Nicholson (Puzzle Three) and Zac Morris (Hal). 
"To me this play is about life," Ingrid Young said. "How small the world can be and how life goes on even after everything. It's a cute and funny play and it has moments where you smile because it's all connecting and being pieced together."
Young spent a lot of time preparing for her role, as did the other actors.
"I read through the script tons of times," Young said. "I created a character analysis which includes her personality traits, how she reacts, who she is as a whole and a backstory. I can't wait for the audience to enjoy the show as much as we have putting it together." 
Photo credit: Meta Lasch